2020 is the Year of the Rat according to Chinese zodiac. The predictions below are valid for 2020 (year of the Rat) starting from 25 January 2020 – 11 February 2021.
Rat is the first in the 12-year cycle of Chinese zodiac. The Years of the Rat include 1912, 1924, 1936, 1948, 1960, 1972, 1984, 1996, 2008, 2020, 2032... Though people consider the rat not adorable, and it even makes its way into derogatory languages, it ranks first on the Chinese zodiac signs.
The Chinese Zodiac, known as Sheng Xiao, is based on a twelve-year cycle, each year in that cycle related to an animal sign. These signs are the rat, ox, tiger, rabbit, dragon, snake, horse, sheep, monkey, rooster, dog and pig. It is calculated according to Chinese lunar calendar.
Star Columnist & Resident Feng Shui Master for Simply Her Magazine, Master Clarice Chan is the Author of the "Master Clarice Chan's Guide" series.
Master Clarice Chan is a regular contributor to renown magazines such as Expat Living, The Finder, Harper's Bazaar, Female Magazine, The Peak & Cosmopolitan and now www.expatchoice.asia. Read "Your Fortune" here for 2020. 
Rat
General Overview
If you are one of those who tend to overwork, it is best to put your well-being as a top priority this year.  Balancing the time spent between your work and family is also very important. For your personal safety, high-risk sports and adventurous trips should be avoided
Be aware that months that carry fluctuating energy can be more challenging and it will require you to be more patient. You should also be mindful about making rash decisions in May, June and December.
Money-wise, this is a positive year for working individuals as well as business owners. However, higher expenses are also indicated and you must, therefore, try to stay within your budget.
OX
General Overview
This is a year of optimism and personal growth for those of the Ox sign as you are the most harmonious zodiac this year.  You will be busy for most of this year with work as well as in your personal life. Business owners will see a productive time, while new partnerships and joint ventures are also possible  
Money-wise this is a moderate year, business owners must be careful not to overspend. You are also cautioned against making impulsive money decisions in the months of July and December.
Health-wise, be aware that this can be a draining year and you are therefore advised to take care good care of yourself by having adequate rest and optimizing on your nutrition intake.
Tiger
General Overview
2020 will begin with strong energy that can challenge your belief system and you must be patient and flexible to make it useful for you.  Be aware that those who are impatient and want to take big strides will find this an uncomfortable year. To get the best out of this year, you must be strong, confident and keep an optimistic mindset.
Financially, it will be wise to be more disciplined with your spending in the first half of the year. Work-wise this can be a challenging year and it will be wise to consider carefully if you wish to make changes to your career or business.
is important for all Tiger born to take extra good care of themselves as they will be prone to stress and mental fatigue this year, especially in April, August and December. It
RABBIT
General Overview
This is an energetic and socially friendly year for people born under the Rabbit sign.  Working individuals will find this an optimistic year but you are reminded to be humble and avoid drawing too much attention to yourself.  
Those who are running their own business and those who are freelancers will need to be more adaptable to market changes in order to have a profitable year.
Money-wise this is a moderate year. Your income will be stable but investments will go through fluctuations.
For your well-being, it is important to have a balance of activities as you are prone to stress and fatigue. Eating healthily is also important, especially on your travels.
Dragon
General Overview
2020 is likely to be a strong and dynamic year for Dragons. To give yourself a good head start, it is important for you to keep a positive mind-set and set realistic goals.
Dragons who are tempted to take a leap of faith in their career or in business must be patient and adaptable to changes. Continue to work on establishing yourself in the market and stay relevant in your field of expertise.
Money-wise you will find this a positive year but you must try to keep to your budget and avoid impulse purchases as general expenditure is likely to increase.
For your personal safety, rushing around, adventurous trips and high-risks sports should be avoided, especially in the months of June and December.
SNAKE
General Overview
This will be a mixed year for those born under the Snake sign and it is advisable to be focused and walk the journey of this year with more patience and confidence.
It is important to remain  calm and flexible when dealing with sudden changes at the workplace. Those who wish to switch jobs will need to be more patient and if you are starting a new business it is important not to look at all details and avoid those get rich quick ideas.
Healthwise, be aware that you are prone to fatigue and issues related to the blood and heart. As this is an active and hectic year, you are cautioned not to take personal safety for granted, especially if you like sea-sports and travel frequently
Horse
General Overview
This is an energetic year for those born under the Horse Sign and be aware that events can be turbulent  at times. To walk this year safely and successfully, you must  moderate your expectations and activities
Work and business will be challenging as stiff market competition is indicated. If you are planning to switch jobs, be aware that this will be taking a much longer time.
Money-wise, this is possibly not your best financial year for commission based individuals; you will need to work harder and moderate your spending.
For your well-being, it is important to have a balance of activities as you will be prone to fatigue and stress. It is also important to take care of personal safety as you can be accident prone this year.
GOAT
General Overview
This is a fast moving year for those born under the Goat sign and you must continue to keep optimistic, healthy and productive. Clear communication and being creative are the key elements to your professional advancement.  
Workwise, energy will be stable and those who planning for business expansion will find the support they need. It is also a good year for those who wish to change job.
While income positive and you can gain from investments and trading, you must continue to be vigilant and watch out for sudden downturns especially in the second half of the year.
For your well-being, you are cautioned to manage work stress to prevent headaches and mood swings.  Personal time out and exercise are important this year.
Monkey
General Overview
2020 will require you to be more patient, mindful and focus on your goals to overcome challenges and walk this year with success
Career-wise, changes are indicated for the Monkey sign and you must try to take these positively. It is important to be more co-operative at work as re-structuring at the workplace is also indicated.
Financially, you will continue to enjoy stable income, incentives and bonuses but for security, it will be unwise to switch or job hop.
If you are one that loves a fast-moving lifestyle, it will be important to slow down and create more personal time for yourself and your family. Be aware that there may also be difficult situations in your personal life that you need to take time out to resolve.
ROOSTER
General Overview
2020 is looking like an exciting and vibrant year for those born under the Rooster sign. You are also likely to receive work recognition and be offered good opportunities. This is also a positive year for those who are job-seeking or looking for a career change.
Business energy will be demanding and competitive and you are advised to be more diplomatic when dealing with clients, associates and co-workers. 
Money-wise, this is likely to remain a positive year. For working individuals, an increase in salary and gains from other areas are also possible.
Keeping a healthy lifestyle is important as you are will be prone to stress and exhaustion. Travels and personal time out will be beneficial to your well-being and relationship with loved ones.
Dog
General Overview
This is a mixed energy year for those who are born under the Dog sign and you must  kind to yourself by looking after your personal interests.
Professionally, this will be hectic and demanding especially for business owners. Those who are starting a new project or job this year are advised to try to adapt to changes quickly.
Money-wise, this is an average year and it is therefore not the best time to take risks or extra financial commitments. It will also be wise to keep within your budget as extra expenditure is indicated.
As the energy of this year could overwhelm you, it will be wise to make extra effort to take good care of yourself.
Pig  
General Overview
You will be excited to know that 2020 will be supportive for people born under the Pig sign. A focus and positive mindset as well as strong self-confidence will help you go a long way this year.
Professionally, this will be a stable year and you can look forward to positive changes and it is also supportive of those who are seeking new employment, a career switch or taking on overseas assignments.
Money energy will be moderate throughout the year but it is still important to keep a good hold on your finances and avoid overspending.
Work stress can get to you and to keep healthy, you are encouraged to have a keep fit program and eat healthily.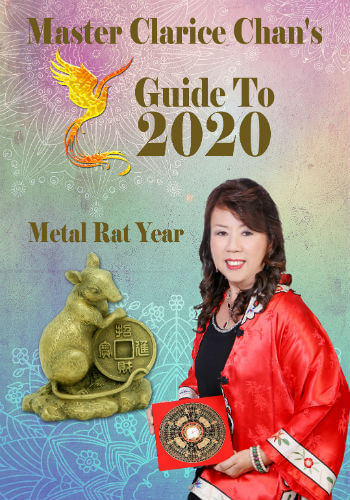 For further information please contact:
Master Clarice Chan on email at [email protected] or visit her website for more insightful learnings. www.claricegvchan.com