China Collection opened 20 years ago and is proudly a family owned store. Due to the increasing demand to shop online, China Collection launched their Online Shopping Experience in October 2020. 
China Collection sell an eclectic selection of rare Chinese antique pieces, unique vintage furniture as well as a range of gorgeous home accessories.
Their customers have found elegant, beautiful and unique furniture to feature in their homes for two decades and continue to do so at their new location on Joo Chiat in an elegant old shophouse set over two floors, with an impressive array of original elm wood cabinets, painted sideboards, trunks, consoles, desks and altar tables, or alternatively, for the avid netizen Shop Online.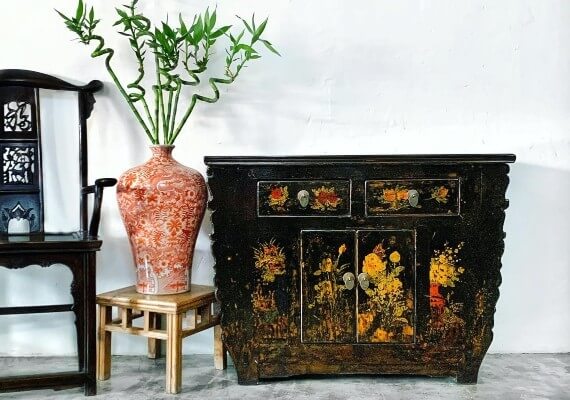 This stunning late 19th century side cabinet from Gansu Province (above) looks so at home paired with a lovely vintage yokeback armchair and one of China Collection's signature meiping dragon vases. You too can add a stunning piece of vintage China to your home.
Their philosophy is to provide a range of unique stunning interior pieces that suit individual styles and are exceptional value for money. Why buy a reproduction when you can own a piece of history! China Collection also features a colourful array of Asian inspired home accessories including lamps, porcelain jars, bronze rain drums and their signature jade and silk tassels. 
Seasoned Singapore Expat Women Interview October 2020 with Nici Schueler and China Collection owner Douglas Lockett​
China Collection are experts on Northern Chinese country antiques, and hand selects and curates their collection. The China Collection in-house interior stylist is available to assist you with your selections and will generously offer qualified home styling advice. China Collection is truly a Singapore shopping excursion to savour - both physically and digitally.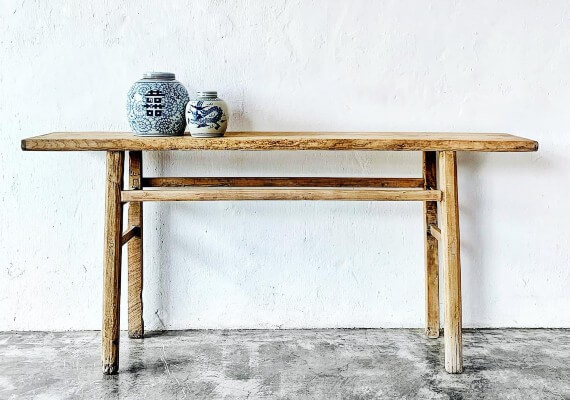 The Blue & White Porcelain + Elm is such an amazing combination. This mid 20th century vintage console from Shandong Province, China (above) is available in store now. This table is perfect for displaying your favourite home accent pieces, picture frames, floral arrangements, or used to frame the bottom of a favourite piece of artwork. It's also the perfect size for the back of a three seater living room sofa.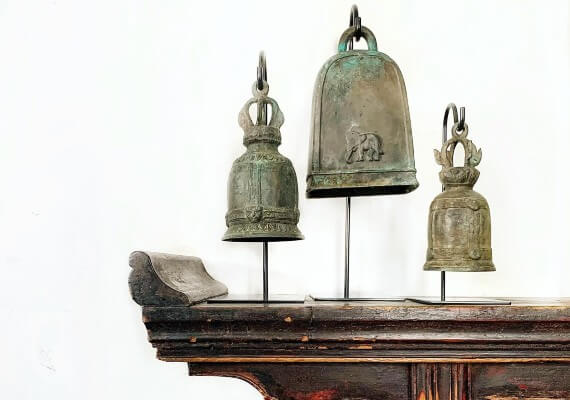 Inspired by their travels throughout Southeast Asia, these Thai bronze temple bells (above) make perfect accent pieces for your home console, sideboard or coffee table. Here they are paired with this incredible late Qing Dynasty elm wood altar table. 
The blend of old and new has something for everyone, from antique furniture including Chinese cabinets, trunks, altar tables, desks, consoles, to fine porcelain ginger jars, table lamps, decorative baskets and boxes, rain drums, statues and a colourful array of silk tassels. It's a shopping experience to savour!
Start your Online Shopping Experience Here
INFORMATION
Opening Hours: Monday to Saturday 10am to 5pm, Sunday 12pm to 5pm.
a. 252 Joo Chiat Road, Singapore 427506
t. +65 6235 1905 or +65 9858 6889 (Additional Line)
s. www.facebook.com/ChinaCollection
Comments
I love China Collection for unique antique furniture that tells a story. The prices aren't much higher than reproduction furniture, so I always feel like I'm getting a great deal and a piece of Chinese history. A wonderful store.
China Collection is recognized as Singapore's preeminent dealer of antique and vintage Chinese furniture as well as Asia inspired home decor. In store, you will find a curated collection of antique and vintage furniture, decorative porcelain, stoneware, bronze-ware, table lamps, and a wide assortment of decorative accessories. With regular shipments arriving in store, the showroom is always changing. Congratulations to owner Douglas Lockett​, the man who has keep his family tradition alive to bring to Singapore residents only the best, most unique pieces for your home from across China and the East.