Virtual Seminar 24-27 September 2020. Savills Singapore is delighted to announce the launch of the final residential building at Embassy Gardens, The Modern, marking the last chance to become part of one of London's most exciting riverside neighbourhoods.
Completing the picture for this leading regeneration project for Nine Elms, The Modern will offer 160 apartments efficiently designed for 21st century contemporary living. Launching in Singapore on 24th September 2020 (Thursday), The Modern will consist of one and two bedroom apartments in addition to two signature Penthouses, with starting prices from £695,000.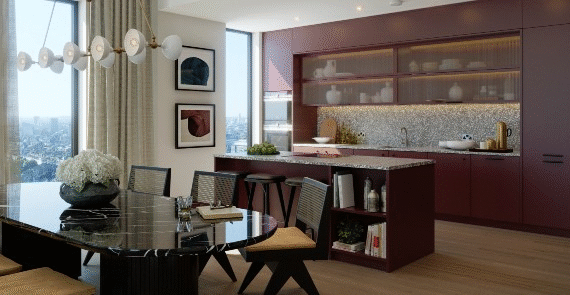 Book a 1-on-1 Meeting Here
World-renowned developers, EcoWorld Ballymore, have effectively designed all homes with a new specification to maximise spacious living and uphold an ethos of craftsmanship at their core. All apartments have been designed by internationally influential duo Benningen Lloyd to offer residents a luxury yet vibrant lifestyle; blending individuality with bold colours and a modern style for residents to call home.
With breathtaking views of the Linear Park and the Thames, the apartments connect with the development's green backbone and are uniquely suited to complement the spirit of its riverside location on the South Bank.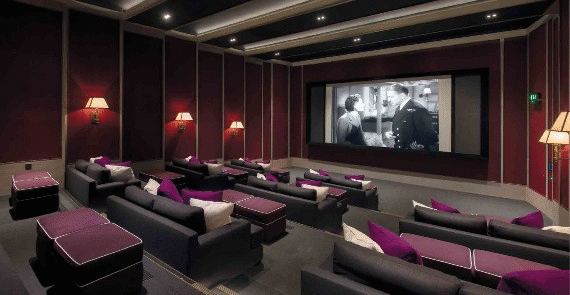 Residents of The Modern will also have access to Embassy Garden's first class amenities which are considered some of the best in London. These include access to the Sky Deck and Orangery rooftop bar, private cinema, indoor swimming pool, co-working areas and meeting rooms, two gyms, spa and steam rooms.
Further cementing its global reputation, a world-first in pool design, The Sky Pool is due to be installed later this year. Developed by the world's leading experts in engineering, the transparent 25m-long pool will allow residents to swim between two Legacy buildings 35m in the sky.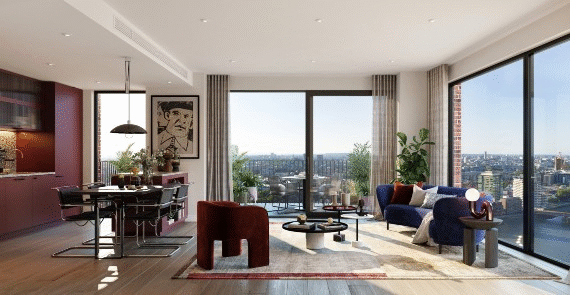 Book a 1-on-1 Meeting Here
Embassy Gardens' established reputation as a leading lifestyle and commercial hub for London where people work, live and socialise is ever growing. It is already home to a diverse selection of thriving lifestyle brands, including Robin Gill's Darby's restaurant, Australian inspired District cafe, beauty and lifestyle concept Linnaean, leading publisher Penguin Random House, well known cocktail bar the Alchemist and boutique cycle studio Static.
Located in LDN Travel Zone One makes the mixed-use development well connected, and the opening of the Nine Elms tube station, extending the Northern Line, will be a historic moment for both Nine Elms and London. The riverside walk will open up a scenic riverside route along the Thames, making it possible for residents to walk by the water with unbroken views of the North Bank, and a new riverboat pier is expected to open in 2021.
Commenting on the release of The Modern, Dato' Teo Leong Seng, President and CEO, EcoWorld International said: "The release of these new apartments and their compelling pricing provides a unique opportunity to become a part of the Embassy Gardens family. This is a real milestone for Embassy Gardens, which we believe marks the next stage for the riverside development as it grows into a leading lifestyle hotspot for London."
John Mulryan, Group Managing Director at Ballymore, added: "The popularity of Embassy Gardens has been growing in line with Nine Elms' remarkable transformation, and the addition of The Modern will create more homes in response to this demand, completing this leading mixed-use development's residential journey."
Book a 1-on-1 Meeting Here
About Embassy Gardens:   
Embassy Gardens will see the creation of over 1,500 new homes, stunning landscaped gardens, vibrant new bars and restaurants providing a variety of al fresco spaces and 130,000 ft sq. of shopping space.
Phase two is being delivered by EcoWorld Ballymore and phase one, which is now complete and occupied, was delivered by Ballymore Group. Phase 3, which is also under construction, includes One Embassy Gardens, the development's flagship commercial building, with space pre-let to Penguin Random House UK and DK Publishing and EG:HQ, a 13-storey office building which will provide 217,000 sq. ft. of contemporary, riverside office space at Embassy Gardens. 
The apartments at Embassy Gardens are a 10-minute walk from Vauxhall station and connectivity will be further improved with the forthcoming extension of the Northern Line, creating two new stations at Nine Elms and Battersea Power Station. Future home to the Sky Pool, Embassy Gardens is a landmark development which will establish a totally new community within central London, wrapped around the new US Embassy.  
Disclaimer: This is an overseas investment. As overseas investments carry additional financial, regulatory and legal risks, investors are advised to do the necessary checks and research on the investment beforehand. All forms of investments carry risks, including the risk of losing all of the invested amount. Such activities may not be suitable for everyone. Planning permission no.: PA2013/5259. *Prices and details are correct at the time of release and subjected to change(s) without prior notice. All content © copyright 2020 Savills (Singapore) Pte Ltd (EA Licence No. L3009688B). All rights reserved.
Comments