China Collection opened 20 years ago and is proudly a family owned store. Due to the increasing demand to shop online, China Collection launched their Online Shopping Experience in October 2020. 
China Collection sell an eclectic selection of rare Chinese antique pieces, unique vintage furniture as well as a range of gorgeous home accessories.
Their customers have found elegant, beautiful and unique furniture to feature in their homes for two decades and continue to do so at their new location on Joo Chiat in an elegant old shophouse set over two floors, with an impressive array of original elm wood cabinets, painted sideboards, trunks, consoles, desks and altar tables, or alternatively, for the avid netizen Shop Online.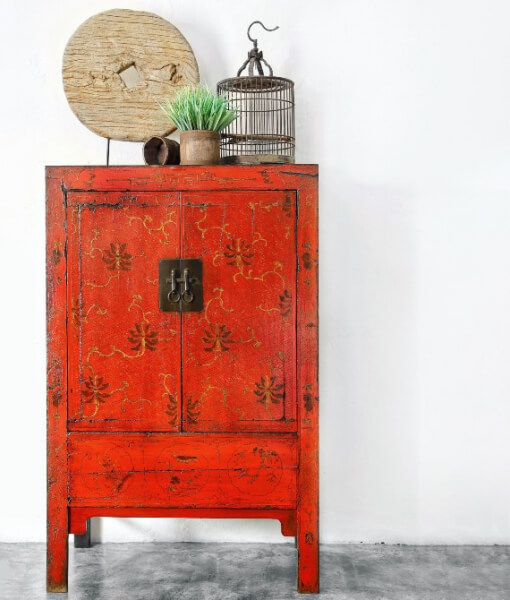 A Mid 19th Century Elm Wood Red & Gold Lacquer Scholar's Cabinet from Shanxi Province, China. The repeated lattice and floral motif is quite rare for this type of piece – a real gem in our current collection. On top we feature a mid 20th Century vintage elm wood wheel (from an old cart) from Shandong Province, and vintage Bamboo Bird Cage from Beijing.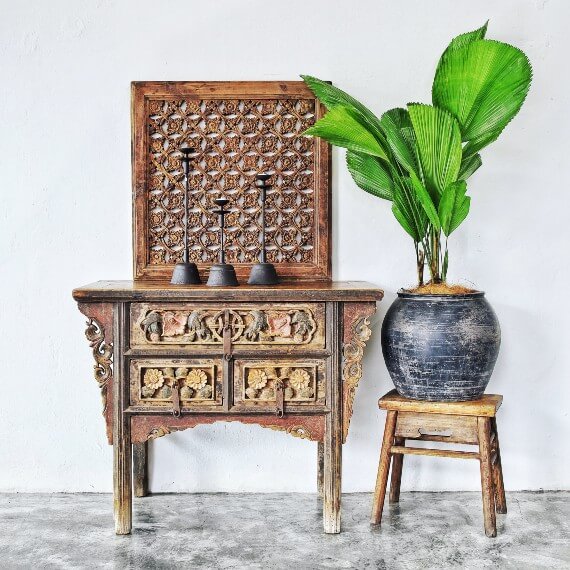 A 19th Century Elm Wood Coffer from Shanxi Province, China. This piece features brightly painted floral carvings and original iron hardware. The delicately carved spandrels are in great condition for a piece of this age. This piece is finished with just a bit of wax to preserve it's lovely original patina. Featured on top is an original 19th century floral latticework window panel from Shanxi Province. The cypress wood stool is also an early 20th century original from Shandong Province.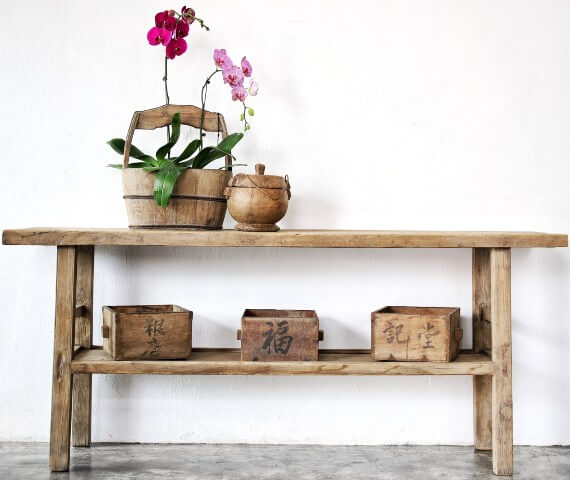 Late 19th-Early 20th Century Shanxi Console Table in Elm Wood. This lovely rustic console from the rural northern Chinese countryside features a very practical lower shelf. On top are vintage buckets, one from Shanxi, and the other from Yunnan. The square storage boxes underneath are also vintage, form Shandong Province.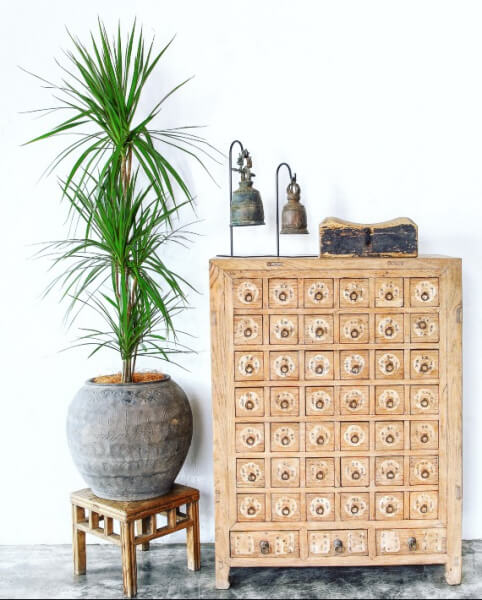 Late 19th Century Elm Wood Medicine Cabinet from Shanxi Province. This traditional Chinese medicine cabinet features over 40 small drawers, and each drawer is internally sectioned into four compartments. The outside of each drawer features a paper label, listing what would have been the contents of each compartment. Original medicine cabinets are harder to come by nowadays, and are becoming quite collectible. These make amazing feature pieces for your home, and are surprisingly practical for storage!
The blend of old and new has something for everyone, from antique furniture including Chinese cabinets, trunks, altar tables, desks, consoles, to fine porcelain ginger jars, table lamps, decorative baskets and boxes, rain drums, statues and a colourful array of silk tassels. It's a shopping experience to savour!
Start your Online Shopping Experience Here
INFORMATION
Opening Hours: Monday to Saturday 10am to 5pm, Sunday 12pm to 5pm.
a. 252 Joo Chiat Road, Singapore 427506
t. +65 6235 1905 or +65 9858 6889 (Additional Line)
Comments
Located on funky Joo Chiat Road is China Collection. A rather apt place to be the corner Peranakan Shophouse has been beautifully renovated to embrace sunlight that streams through every window. If you're refurbishing your home, have just arrived or are leaving Singapore, I highly recommend a stop off at China Collection. From Christmas gifts of candles, cards and beautiful lamps to unique pieces that would fit any interior style. China Collection boasts furniture and accessories that have clean lines and oh the bird cages. Now isn't that something that would lift a corner? Pop in to meet Doug the owner of China Collection and hear some of the stories he has to share about where and how his pieces have found their way to Singapore. It's well worth it!