Image Credit: Zurriola Tokyo Facebook Page
Denise McCann is a global winepreneur having travelled to over 30 countries in as many years.  Currently living in Tokyo after a 4-year stint in Singapore, purveying the culture, sights, sounds and tastes (and tipples) of the internationally inspired orient with her husband, Patrick. They describe themselves as wine connoisseurs, restaurant gourmands, art lovers and gallivanters!  
They own and manage a luxury holiday retreat in wine country In Victoria, Australia called TS Valley Villa Luxury Retreat. Denise seeks out local luxe dining experiences with each culinary experience documented in her exquisite journalistic voice, although this Australian couple are more than inquisitive to get out from the high street and experience hawker dishes, and any concoction of street food available across South East Asia and beyond. In Denise's words, "It's all about people, place and produce."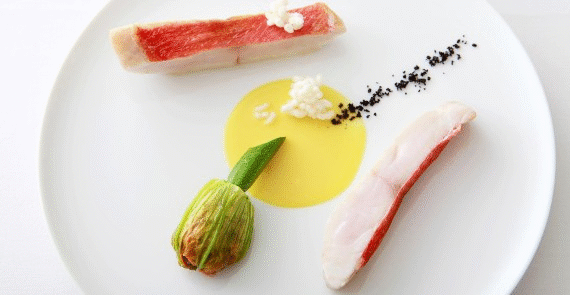 ROCK STAR TREATMENT: In Japan, as is well known, you are treated with the utmost respect and patience. We know so little Japanese it is embarrassing, but it does not stop the staff from taking the time to explain each dish and ingredient. At Zurriola, Owner Chef Seiichi Honda took the time to say hello and serve us some of his fabulous dishes: he made us feel very special.
D&D INDULGENCE: Where to start? The layered and tasty oxtail and smoked eel "sandwich", to the refreshing, exquisite cold tomato soup with pike and red shiso jelly; from the stuffed squid with mushrooms and eggplant in black squid ink sauce to the grilled Iberico pork and beef tongue, every dish was deserving of an appreciative head wobble. We loved it. And it was finished with hand-peeled fresh peach with a fabulous light lime mousse. I could do the whole menu again. As a Basque restaurant, the Spanish wines list was excellent. We started with two different whites by the glass. Venta d'Aubert, a winery located about 3 hrs south of Barcelona (a blend of Viognier, Garnacha Blanca and Chardonnay) and a gorgeous Albarino by one of the most renowned wineries in Rias Baixas region, Adega Pazos de Lusco which is located very close to the Spanish /Portuguese border.
WOW FACTOR: We sit at counters that overlook the Chef's kitchen every time it is on offer to us. So if you like to do the same then this is the perfect place. The kitchen is "wow". We want one just like it! We loved this place and will go back again and again!
INFORMATION
A. Koujun Bldg 4F, 6-8-7 Ginza, Chuo-ku Tokyo
W. zurriola.jp/
Transport:Ginza Station (Ginza, Hibiya, Marunouchi lines)
ABOUT FOUNDER WOMEN OF WINE
Denise's passion is wine and hospitality!  She has over 25 years of corporate hospitality experience. She is a qualified WSET UK Sommelier, wine educator, events management specialist, bespoke luxury wine tour operator, international wine tourism specialist, writer and public speaker.  Denise is passionate about the wine industry and has travelled extensively to wine regions around the world to hone her craft and share her skills and experience. She has run her own wine events company Women Of Wine since 2007. Since embarking on the expat life back in 2016, Denise has thoroughly enjoyed the consumer side of discovering, experiencing and writing about the food and wine scenes in Asia.