Image Credit: Founder Bak Kut Teh Cafeteria Facebook Page
Bak Kut Teh is literally translated into 'meat bone tea,' but it is actually not a tea at all.
It is in fact a hearty dish consisting of tender pork ribs simmering in a delicious and aromatic broth of spices and herbs.
The 'tea' in fact, refers to a Chinese tea that is traditionally served alongside the dish, as it believed to dilute the fat of the pork.
There are a few types of Bak Kut Teh traditionally found in Singapore. One, the more commonly found Teochew style, is characterized by its peppery broth. Another, a Klang-style herbal broth, is more earthy and fragrant. Here's where you can grab a mouth-watering bowl of Bak Kut Teh: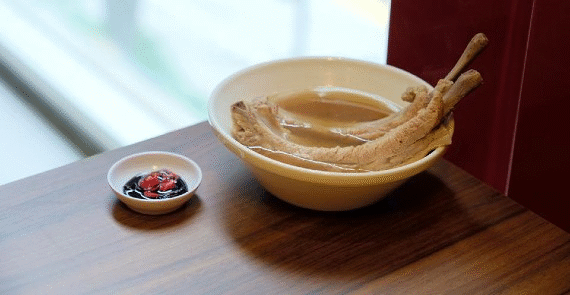 Image Credit: Founder Bak Kut Teh Cafeteria Facebook Page
Walking into Founder Bak Kut Teh, you will see an entire wall pasted with images of celebrities who have visited the establishment.
Founder's began as a venture by a pig farmer who wanted to start making recipes with the freshest ingredients he could find. His recipe for Bak Kut Teh was created based on trial and error, not on any formula. It claims to have the freshest and meatiest pork ribs in a lip-smacking peppery broth.
A. 347 Balestier Rd, Singapore 329777
S. www.facebook.com/founderbakkutteh/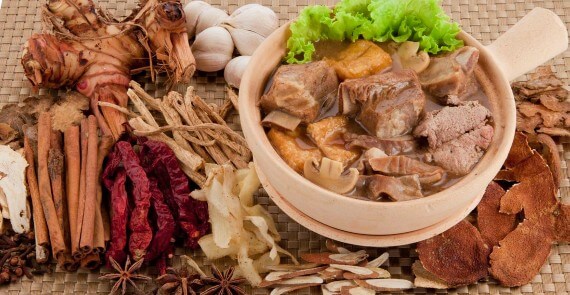 Image Credit: Hong Ji Claypot Herbal Bak Kut Teh Facebook Page
After six hours of cooking, the fragrant soup of the Bak Kut Teh at Hong Ji Claypot can be smelled even from outside the door of the restaurant. Served in clay pots, with tender pieces of pork ribs and a mix of dang shen, dang gui and dried tangerine peel, the Bak Kut Teh at this establishment is light and addicting. You can also top it with fried beancurd, mushrooms and/or lettuce to add a little kick to the dish.
A. Blk 107 Ang Mo Kio Ave 4 Street 11, Singapore 560107
S. www.facebook.com/HongjiBKT/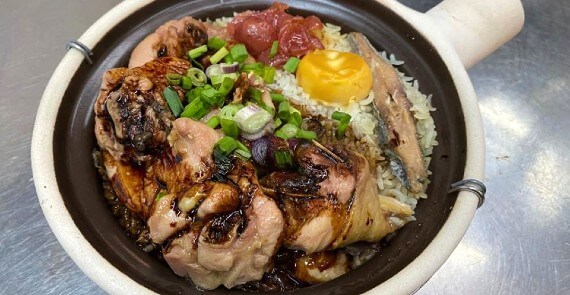 Image Credit: Leong Kee Bak Kut Teh - SG geylang Facebook Page
The Bak Kut Teh at Leong Kee is chock-full of pork ribs, liver, stomach and intestine, as well as fried beancurd and vegetables all soaked in a thick, cloudy, herbal broth. But if you're not a fan of pork, don't fret! Leong Kee also serves a Herbal Mutton Soup option that is equally delicious! If you're not in the mood for Bak Kut Teh, the restaurant also serves an eclectic mix of dishes, including herbal chicken and fried chicken with shrimp paste.
A. 251 Geylang Rd, Singapore 389309
S. www.facebook.com/Leong-Kee-Bak-Kut
Video Credit: Miss Tam Chiak - Famous Johor Kota Zheng Zong Bak Kut Teh Opens in Singapore
Kota Zheng Zong Bak Kut Teh started off as a small pushcart stall in Malaysia almost 40 years ago, and has since grown into the fantastic restaurant it is today. Serving the more herbal preparation of Bak Kut Teh, Kota Zheng Zong Bak Kut Teh has a recipe that includes various parts of the pig from the ribs and the belly, to even the leg and tail! With a mix of 18 Chinese herbs and dark soy sauce in the broth, this fragrant dish with its mild-herbal taste is served with a bowl of steaming rice.
A. 58 Seng Poh Rd, Singapore 160058
W. old-tiong-bahru-bak-kut-teh.business.site/
S. www.facebook.com/OldtiongbahruBa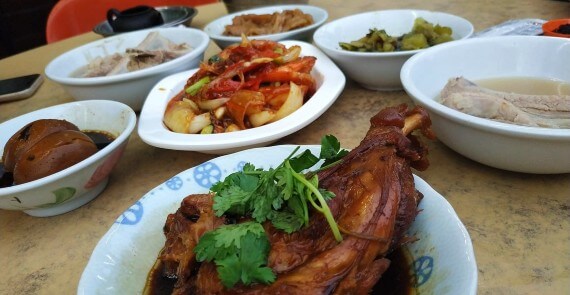 Image Credit: Old Tiong Bahru Bak Kut Teh Facebook Photos 
In the mood for something spicy and peppery, perhaps with a garlicky-sweet aftertaste? Then Old Tiong Bahru Bak Kut Teh has you covered! The treasure of a restaurant is hidden away in a discreet corner of the estate. The establishment is also known for their mee sua (wheat noodles) as well as their home-made dough fritters on the side for you to dip into the delectable broth.
A. 15A Lor Liput, Singapore 277730
W. www.facebook.com/ZhengZongBKTsg/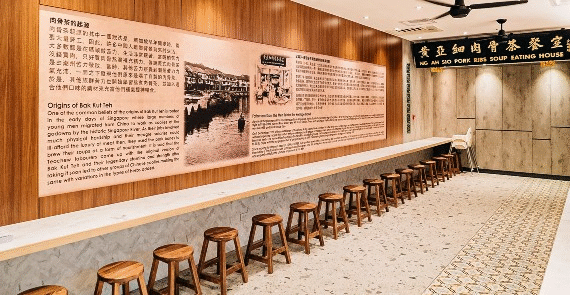 Image Credit: NG AH SIO Bak Kut Teh Facebook Page
Ng Ah Sio Bak Kut Teh have been using same recipe of savoury, pork-based peppery soup  since 1955! Cooked in distinct Teochew style, this establishment's Bak Kut Teh has been the local favourite for many years. The hardy soup is made up of simmering choice cuts of pork ribs with garlic cloves and special blend of peppercorns, leaving you with a delicious milky aftertaste with every mouthful. Even better, try it with chilli and dark soya sauce and servings of freshly-brewed Kung Fu tea.
A. 208 Rangoon Rd, Singapore 218453