Image Credit: Hard Rock Cafe Legendary Burger
My telephone rang. It was the Grab cabbie letting me know that he was at the porch with my Hard Rock Café (HRC) delivery. I was glad to do takeout tonight as it was bucketing down outside.
Excitedly I wondered if my wings and burgers were going to be in good shape after the 20 minute cab ride from Hard Rock Café. I grabbed my bag of goodies and hurried up. It felt like Christmas, opening each pack!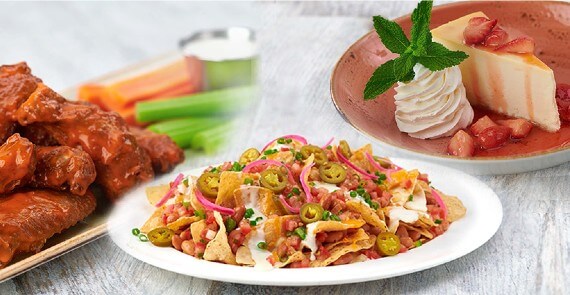 Making it so easy for diners to order, Hard Rock Café have created four $100 Combo sets. Even more convenient are the free delivery options for residents around Cuscaden and a 15% discount on pre-orders with self-collection.
So for $85 excluding GST I would highly recommend Combo C which included a pack of wings with that yummy spicy sauce and some carrot & celery sticks, which lent a refreshing bent to the chicken.
More in the pack….a quartet of mini legendary burgers with bacon and onion rings to top it all. What a mouthful! I suggest placing these in the oven for 15 minutes just to add that touch of warmth to your meal.
I have done this with all other take-outs. It somehow makes all the difference!
I threw the wings and chips into the oven as well and moved on to unpack the rest of the bag from the Hard Rock Cafe. A refreshing green salad with beetroot and orange crescents, pumpkin seeds and a vinaigrette dressing to go with it.
Last but not least two desserts included in the bag, the size of which were definitely more than for two people. A hot fudge brownie and a slice of New York cheesecake topped with a separate container of whipped cream.
"I'll get to it soon enough" I thought. Just then the oven timer beeped. It was time to devour our goodies.
I started with a large bite into the burger which is so aptly named because it is so legendary! The meat patties were grilled to perfection and the quality of meat could be seen from the juicy and gorgeous textured taste.
If I were to recommend one thing at the Hard Rock Café it would be this. Combined with strips of bacon, an onion ring, melted cheese and salad it is really the epitome of what a burger is all about.
I actually like these mini-sized burgers as it gives me an opportunity to try other varieties of food or eat another one if I am hungry. I like to have that choice!
Getting down to my fingers, I started with the wings which had that unique sour and spicy taste I love. Like a jalapeno hot sauce which fires up my mouth…phew!
Personally I would say this combo is plenty enough to feed four people. Very nice for the family to tuck into and perfect for kids who love their chips and burgers. While I tend to stay away from chips I did feel that the meal would not be complete without a few.
For those who prefer seafood, Combo D at The Hard Rock Café might suit better with delights like salmon and shrimp on offer. Or families who prefer a snack-type meal loved by kids, Combo A with baby back ribs or Combo B with nachos and chicken tenders maybe your choice.
It was time for desserts. Starting with the brownie I found the crunchy top and chewy inside to be perfect. Just the way I like it…..and to add to the calories a gooey chocolate sauce with nuts.
Heaven and highly indulgent! A bite of cheesecake and that totally concluded the icing on the cake experience of takeout from the Hard Rock Café.
So consistent in its offerings I have always walked away feeling "what a great meal" only this time I was home and saying the same thing.
INFORMATION
A. Forum, 583 Orchard Road, #01-01/04 238884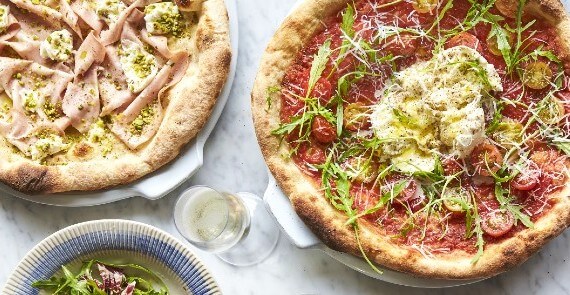 My craving for pizza made me think of a takeout from Jamie's Italian. I had always enjoyed the fare whether it be pizza, pasta or a roast.
Lucky for me, Jamie's Italian had just launched 3 newly curated combos and more combos for those who wanted beverages included.
It was time to make my choice of combo. Since I was hunkering for a good pizza I made a beeline for the Delicious Pizza Combo which included a pack of crispy squid, two pizzas and two desserts from the a la carte menu.
Having been to Jamie's Italian before and raved about something as simple as a tomato sauce, I buckled at the thought of a Margherita pizza. The full taste of a freshly-made tomato sauce without any toppings except basil, mozzarella and parmesan – nothing like it!
Another favourite pizza is the four cheese – topped with mozzarella, cheddar, fontal and parmesan with rocket and extra virgin olive oil. Again plain without a lashing of too many toppings gave me the opportunity to taste the full flavor of ingredients used.
A must when the food arrived was a 15 minute warm up in the oven. This I admit made a world of difference. I do it for all take outs as I am a stickler for hot food and will easily reject anything that isn't piping hot.
The crunchy squid was so yummy with a splatter of chilli, garlic and parsley and the not-to-be-missed aioli dip. I ordered a side of sweet potato fries too as Jamie's Italian does make them well. So heartened when I see them on a menu as they provide a healthy alternative to the stodge of spuds.
Time for pizza and we ravaged the lot in a matter of minutes obviously with a few knockbacks of wine. The perfect combo to a lovely dinner at home – so convenient and a feeling that I've brought Jamie home!
For those of you who might prefer pasta to pizza, the famous prawn linguine at Jamie's Italian is to die for. Why you might ask? It's the tomato base again that makes all the difference.
Having had it on a previous take out, the pasta held well even after a quick heat up in a pot. This was important to me as I love pasta only when it is cooked al dente of course and this was.
So if you are hunkering for a pasta you could opt for the Perfect Pasta Combo which includes a side of chips, pumpkin arancini, two pastas and two desserts.
It was time to cleanse the palette with something sweet. Steering away from the usual Tiramisu I decided to go for the molten chocolate praline pudding. It was so good I would order two of these, next time I do a Jamie's Italian take out.
The Torta di Nada, a blueberry and olive oil cake topped with whipped cream, honey and orange zest which were packed separately tasted like a blueberry muffin.
What I loved about this dessert is how light the orange zest made it. A refreshing way to end a lovely meal from Jamie's Italian.
Order your food in advance with pick up round the corner in front of Hard Rock Café. All for your convenience till 9pm daily. If you are located close enough to Jamie's Italian Forum free delivery for minimum orders is also on offer.
So consistent in terms of food quality, I would confidently recommend Jamie's Italian on your next take out night.
INFORMATION
A. 50 Cuscaden Road #02/03-01 HPL House 249724
W. www.hardrock.com/cafes/singapore
Comments
Fantastic article and thanks for sharing Sylvia!
Hard Rock Cafe supports the time you have with your family and friends and make it a rocking experience by offering you Hard Rock Cafe rockin' $100 combo deals accompanied with free island wide delivery. Specially curated to offer flexibility and affordability, multiple combo deal options come with up to 15% savings on every combo deal. Whether you are a Hard Rock Cafe Baby Back Ribs fan or a seafood lover, there's a combo deal suitable for any craving. The Ultimate Jumbo Combo consists of 1 Baby Back Ribs, 1 Jumbo Combo, and 2 Desserts of your choice including Hot Fudge Brownie's and the New York Cheesecake. The Back to Classics Combo​; 1 Classic Nachos, 1 Tupelo Chicken Tenders, 1 Caesar Salad, and 2 Desserts. The Legendary Combo includes 1 Wings, 1 Fresh Beet Salad, 4 Mini Legendary Burgers, and 2 Desserts and last but not least, the Seafood Galore Combo​; 1 Spicy Shrimp, 1 California-style Cobb Salad, 1 Grilled Norwegian Salmon, and top it off with 2 Desserts of your choice. Enjoy the option of self-collection when you order takeaway of your desired combo meals from Hard Rock Cafe Singapore. Hard Rockers residing or working in critical industries beyond the vicinity of Cuscaden Road are able to enjoy theses combo deals with free island wide delivery service ​ INFORMATION A. 50 Cuscaden Road #02/03-01 HPL House 249724 T. +65 6235 5232 W. www.hardrock.com/cafes/singapore