Image Credit: Spizza Facebook Page
Love for pizza is universal. So don't hold back while ordering yourself a vegan or a vegetarian pizza in Singapore for there are several amazing options available; and no we're not talking about a plain old margherita.
We're talking pizzas loaded with delicious seasonal vegetables, oozing cheese and baked to perfection. We've curated a list of places we love for a meat-free pizza and in fact, meat eaters too can sink their teeth into these cheesy bursts of delight.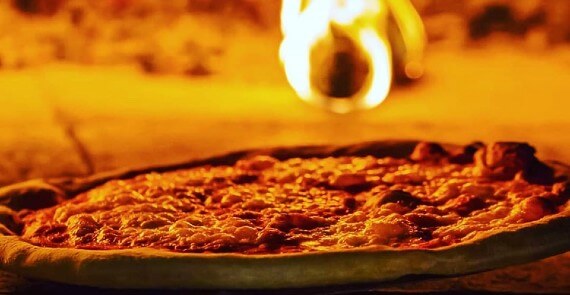 Image Credit: Pizza Fabbrica Facebook Page
Making delicious wood-fire baked pizzas, Pizza Fabbrica is one place you shouldn't miss out. They've got plenty of vegetarian pizzas to pick from and we absolutely love their Funghi Scamorza e Tartufo (mozzarella, porcini mushroom, scamorza and truffle oil) for S$32 and their Burrata e Pomodirini (burrata and cherry tomatoes) for the same price. Their Impossible Pizza (S$28) is vegan and is topped with potato cream, plant based meat, spinach and pickled onions. Order for S$150 and above and get a complimentary bottle of wine delivered to you along with your food.
A. 8 Haji Ln, Singapore 189201
S. www.facebook.com/PizzaFabbrica/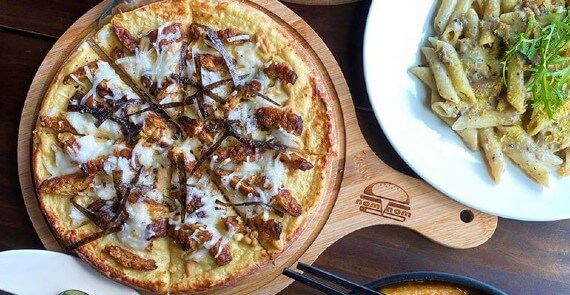 Image Credit: nomVnom Facebook Page
One of the best places in Singapore to binge on a gourmet vegan pizza is nomVnom. Their Cheezy OmniMeat Pizza (S$20.80) comes with a plant-based meat, cherry tomatoes and capsicum. If you like your pizza loaded with vegetables go for their FOMO (S$17.50), Popeye's Delight Pizza (S$19.70) or the Primavera Pizza (S$18.60). Feel like trying something exotic? Go for nomVnom's Rendang Pizza (S$18.60) with actual rendang curry, broccoli and chilli or the MSW Durian Pizza (S$23.00) with durian purée, crispy topping, cashew and soya cream cheese. Yum.
A. 6 Eu Tong Sen St, Singapore 059817
S. www.facebook.com/nomvnom.sg/
Video Credit: udconcepts
Sarpino's delivers delicious vegetarian pizzas and have awesome deals like Family Meal (2 regular pizzas, potato wedges and 1.5 litre drink for S$35) or Pizza Galore (any six large pizzas for S$90). We recommend ordering the Kalamata Delight Pizza (S$23.90) topped with black olives, tomatoes, dried basil, Italian mozzarella and parmesan. You can opt for the Vegetarian Special (S$10.90) if you like pineapple on your pizza along with veggies like green peppers, onions, tomatoes, mushrooms and black olives.
A. Royalville, 833 Bukit Timah Road, #01-04 279887
W. sarpinos.sg/
S. www.facebook.com/GDAPizzaHillV2/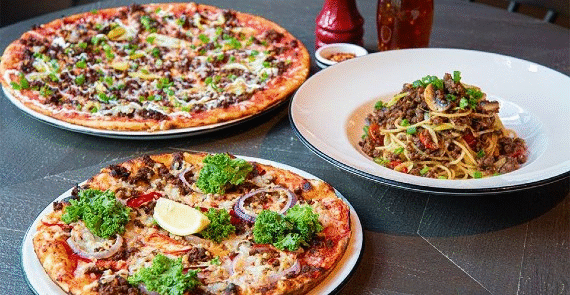 Image Credit: PizzaExpress Singapore Facebook Page
The vegetarian Pomodoro Pesto Pizza (S$20.00) at Pizza Express is sure to make you exclaim 'Mama Mia!' This gourmet pizza features mozzarella, passata, cherry tomatoes and garlic oil and is topped with fresh basil and pesto Genovese. We also recommend their Impossible Teriyaki Pizza (S$26.00) featuring sautéed leek, mozzarella, vegan mayonnaise, spring onions and of course, teriyaki made with plant-based meat. So delicious.
A. 7 Fraser St, Singapore 189356
S. www.facebook.com/PizzaExpressSG/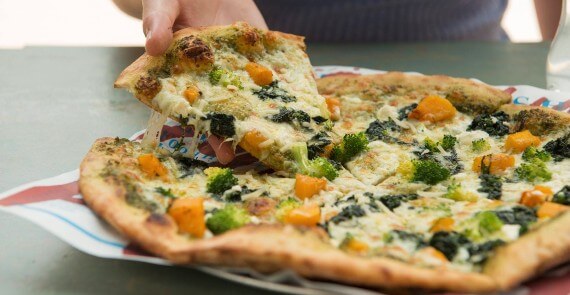 Image Credit: Alt. Pizza Facebook Page
Alt. Pizza makes super delicious 11-inch pizza pies and we are just in awe of the taste. We tried their new Krazy For Kale Pizza (S$18) featuring white béchamel sauce, mozzarella, parmesan, feta, roasted butternut squash, red onions, cherry tomatoes, kale and it is so delightful. Their Say Cheese (S$18) is a perfect choice for those who like all cheese and no veggies. The ones who like it fully loaded with toppings however should opt for pies like Lean & Green (S$18), Old School (S$18) or Hipster (S$20).
A. 01-602 Suntec City Tower 4 038989
S. www.facebook.com/pg/AltPizza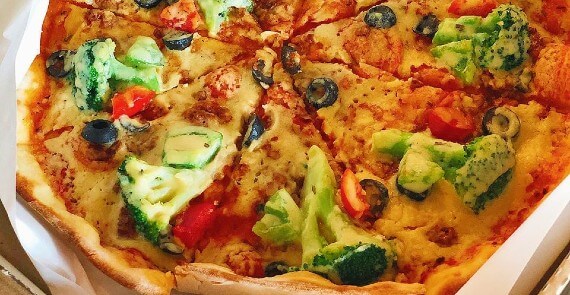 Image Credit: WellSmoocht Facebook Page
Vegan pizzas by WellSmoocht are oh so tempting and are all made with in-house 'cashew cheeze' or 'cashew cheeze sauce'. We love their What's Up Dawg Pizza (S$16.50) featuring vegan sausage, black olives, tomato and onions and are topped with fresh greens. The Truffle Cheezeburger Pizza (S$18.50) is also quite innovative and comes with marinated tempeh crumble, gherkins, tomatoes and onions with the cashew cheeze sauce, signature nachos cheeze and white truffle oil.
A. 8 Sin Ming Rd, Singapore 575628
S. www.facebook.com/wellsmoocht/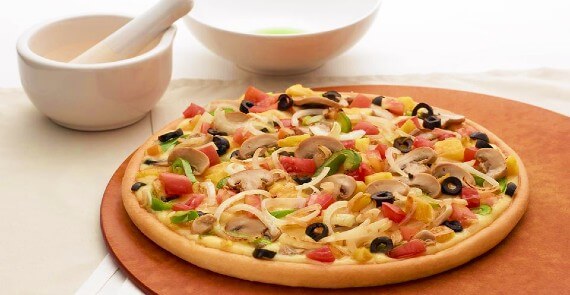 Image Credit: Canadian 2 for 1 Pizza  Facebook Page
Canadian 2 For 1 Pizza delivers amazing pizza pies and we love their spinach specials - Spinach with Olive (spinach, green olives, caramelised onions, feta cheese, red chilli) and Spinach Delight (spinach, feta cheese, onions and cheese mix) both at S$27.90 each. You can also go for their Garden Veggie or the whole meal, In Your Garden Pizza (cherry tomato, spinach, capsicum, mushroom, olives, onion and cheese mix) for the same price.
A. 10 Kim Keat Rd, Singapore 328844
S. www.facebook.com/singaporecanadia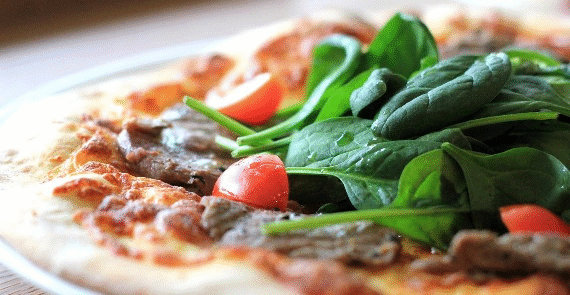 Image Credit: Spizza Facebook Page
Delivering piping hot 12-inch pizzas, Spizza specializes in making traditional Italian wood-fire baked pizzas. Relish the vegetarian pies on the menu like Claudia (tomato, bell pepper, zucchini, eggplant, artichokes, mushroom) for S$22.00, Elisa (tomato, mozzarella, pesto, olives, pine kernel, parmesan) for S$23.00, Laura (tomato, mozzarella, taleggio, smoked scamorza, gorgonzola) for S$23.00 and Margherita (tomato, buffalo mozzarella, mozzarella, fresh basil) for S$25.00. They have awesome delivery combos ranging froms S$36.00 to S$83.00 and are best if you're planning to make it a complete meal.
A. 269 Jln Kayu, Singapore 799497
S. www.facebook.com/spizza.sg/
Video Credit: Domino's Singapore
Domino's is a brand synonymous with pizza and they've got plenty of choices when it comes to vegetarian pies. If you're feeling adventurous, try their Quattro Veggie as it has four delicious veggie flavours in one pizza. Or you can opt for the regulars like Romano Margherita featuring feta, cherry tomatoes, olives and Napolitana sauce; Valenciana Mushroom with a refreshing pesto sauce on the base; or the Very Veggie with fresh vegetables and chunks of pineapple. You can choose different crusts and can always get a customized pizza to suit your taste buds.
A. 73 Killiney Rd, Singapore 239528
Comments
Wow how amazing is this vegan pizza. You wouldn't have known it was vegetarian at all!
At nomVnom, we strive to provide mouth-watering modern vegan food that is innovative and appealing to both vegans and non-vegans alike. Every effort is made to ensure the quality and freshness of the food and beverages served at nomVnom. In the bigger picture, we aim to play a part in the sustainable effort and to help our Mother Earth and keep the world spinning through promoting a healthier plant-based diet.
Family, friends and good times have always gone together. And nothing brings people together in quite the same way as sharing a pizza. For over 14 years, Canadian 2 for 1 Pizza has been invited to everyday dinners and special celebrations in Singapore for a simple reason: our great tasting pizzas and food make good times better. In pursuing our mission of "helping make the good times better" Canadian 2 for 1 Pizza have become one of Singapore's largest and most successful pizza delivery brands.