What do you think about The Song of India to Celebrate Father's Day Sun 16 June 2019 with a Complimentary Buffet for Dad?
At iconic Indian Restaurant, The Song of India  it's only the best for Dads on Father's Day where a feast of India's best regional dishes will be prepared. 
On Sunday 16 June 2019, The Song of India is pulling out all the stops to give dad the unforgettable Father's Day that he deserves. With every group of four diners, treat dad to either a complimentary brunch of Northern Indian delights, (Sunday Brunch Buffet: 1st seating – 11.30am | 2nd seating – 1.30pm) or a free 4- course dinner (6pm to 11pm) of the restaurant's most popular dishes. After a hearty meal, quench dad's thirst with Amrith's 1-for-1 drinks promotion.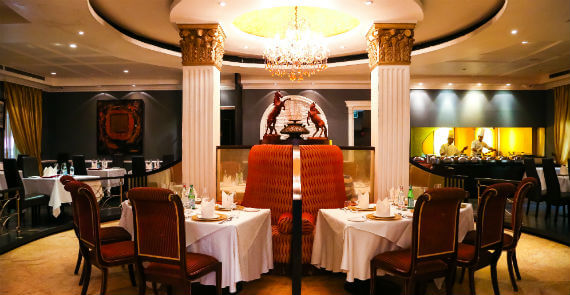 Nestled in a heritage bungalow on Scotts Road, The Song of India is one of the island's most well-acclaimed Indian restaurants. Led by Director of Cuisine, Chef Manjunath Mural, The Song of India has been widely acknowledged for being one of the pioneers in redefining modern Indian cuisine in Singapore, leading them to be awarded a Michelin star for two consecutive years since 2016.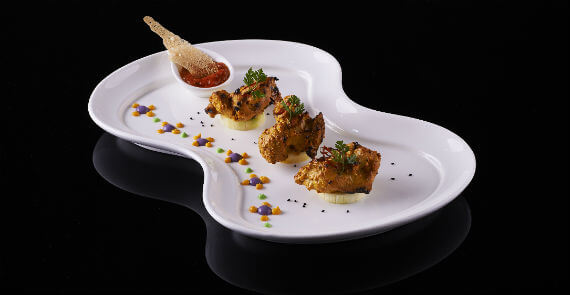 The Father's Day brunch buffet ($46.90++) will shine a spotlight on the delicacies of Kashmiri and Lucknow in Northern India. Director of Cuisine, Chef Manjunath Mural has prepared a Lucknowi Chicken Biryani with fluffy basmati rice, and vegetarians can look forward to signatures such as Kashmiri Lotus Root Korma, where lotus roots are cooked in a thick, creamy curry.
A special live station will also be set-up for the occasion, offering freshly made, traditional Rice Hoppers with Coconut Pumpkin Stew, a popular street food from Kerala.
The 4-course dinner ($79++) menu promises signatures dishes such as the Chicken Spinach Roulade, where chicken roulade is stuffed with creamy cottage cheese, baby spinach and topped with fennel sauce; succulent Hyderabadi Lamb Shish Kebab is cooked in a clay pot; and for dessert, savour a homemade masala tea Rose Gulkand Kulfi.
After enjoying the best dishes that Northern India has to offer, usher dad into Amrith for some after-meal drinks.
Amrith is the brainchild of The Song of India, and its location amongst the tranquil outdoor gardens of the restaurant makes it an ideal hangout for those who enjoy quiet conversations over handcrafted drinks and bar bites prepared by Chef Mural and his team.
Just for Father's Day, Amrith is offering a 1-for-1 promotion on a variety of bespoke cocktails, mocktails and beers.
Comments
Sitting majestically in a beautiful colonial bungalow The Song of India has a terrific ambience. The sound of light jazz pervades as I walk into this chandelier lit restaurant. Chef Manjunath Mural comes out to welcome me as he reveals proudly that he joined The Song of India as a sous chef. Having taken this award winning restaurant to Michelin star status he has created the menu as a gastronomical journey through India. I was at the restaurant to savour the daily buffet which had already drawn a crowd. With careful attention, Chef Mural created an even combination of vegetarian and non-vegetarian dishes. Priced at $36.90++ the buffet is available from Monday to Saturday from 12 noon to 2.30pm. The buffet table stretched with salads and starters to mains and desserts. In great Indian street-style food, chaats my absolute favourite were on the table. These are savoury snacks typically served at road stalls on food carts in India. There are many varieties to choose from and dressings can vary from tamarind to yoghurt. When eating chaats one should plonk the whole thing in the mouth, ready for the noisy crunch similar to eating crisps. A very satisfying experience though it may not come across as terribly elegant. Certainly an experience to be had if you are on the streets of Calcutta, where chaats are famous. For soup lovers, there was a delicious asparagus soup to start. I must confess soups fill me up too fast so I often just have a spoonful to taste the underlying tones. This was light and easy to pack in with the rest of the buffet. In fact the entire buffet was delicately spiced which made it so much easier to eat more….aggghhh not exactly what I need right now! The Song of India is also kids friendly and Sundays are termed as family day. Kids below 12 years old eat for free and the brunch buffet costs $46.90++. A good price considering the array of dishes on the buffet! This Fathers Day will see the launch of a special lunch buffet priced at $69++ and set dinner priced at $79++. On a table of five adults, if there is a Dad amongst them he will not be charged. So this is a great incentive to be at The Song of India on this special day and make sure Dad is amongst the group. Take your pick of two sittings - 11.30am or 1.30pm – all created for your convenience. Back to the food. It was time for mains so I scoured the buffet to see what my options were. I couldn't possibly eat everything! Since the buffet includes breads I ordered a tandoori roti and garlic naan. I found a dish called Vilayati Seekh – a combination of grilled vegetables in a tikka grilled style. Of course a bit of paneer tikka is always welcome. Some lamb seekh kebab and mint chicken tikka. All my favourites! Arriving back at the table the breads were ready. Oh the garlic naan was soft and fluffy, crunchy on the rim and so tasty. I gobbled a whole quarter down in two shakes of a tail. Bread! My greatest weakness sigh… Feeling partial to starters, I loved the variety of grills on my plate. It was all so delicious with a chilled glass of Fritz's 2016 Riesling. By the way The Song of India has an amazing wine list, a few labels to choose from almost all wine-producing countries. I went back for mains and decided to plant my base of carbohydrates on the plate first. There was a chicken tikka briyani and garbanzo pulao both of which were light and distinctively different. Piling my plate with a bit of most dishes I spooned Mutton Rogan Josh, Kadai Chicken, Malabar Fish Curry, Dal Tadka, Bhindi Do Pyaaza, Paneer Taka Tak, Vegetable Lababdar and Aloo Jaipuri on the side of the rice. Tasting each one at a time my favourites were the lentils (Dal Tadka) and okra (Bhindi Do Pyaaza). Interestingly both vegetarian dishes although I do love non-vegetarian too. I have to say The Song of India serves very light flavors that are not too overpowering as some Indian restaurants do. So people with lower tolerance to spice would be fine here. It was time for dessert. I made a beeline for the carrot halva. Served warm it is shredded carrot cooked with pistachio and spices like cardamom. A good cleanser and not too sweet. To end the meal nothing like a masala tea which is characteristic of India's tea stalls on the pavement where you see tea "pulled" to froth and give it texture. The Song of India I felt is extremely versatile in that it offers set lunches/dinners, degustation menus and is even a wonderful space for a private event. The service staff were excellent and helpful too so make it a point to strike up a conversation with them when you are there. They are flexible in creating what you need and a mound of information, should you need it. On the way out I reached over to the trail mix of cumin and sweets – a must palette cleanser and digestive when leaving an Indian restaurant. My culinary journey had ended. It was a stylish afternoon to say the least. Thanks to Chef Mural and his team!
What are people saying on Social media? We use to eat a lot at this place from the time Chef Mural took over the kitchen while we were in Singapore, after leaving Singapore, I was waiting for a chance of returning again as I was missing the creations! The food and service is amazing! The staff is knowledgeable and very accommodating especially when you are with family. The preparation of food is excellent with immense attention to detail. What I love the most is how Chef incorporates the traditional parts with the food... the shorba with khari as bread stick! Outstanding.... and the food is literally decorated on plate with rangoli of chutneys! A complete package for treat of senses in every way. Now, almost the only restaurant I go to when I am short on time on visit to Singapore! Compliments and best wishes to the whole team! Vaishali Bhutani Shah reviewed The Song of India – 5 star on FaceBook