Image Credit : Asia's 50 Best Bars 2020 : Jigger & Pony - Madame President
Video Credit : 50 Best Bars TV
The fifth edition of the annual ranking sees Singapore's Jigger & Pony clinch the No.1 spot, earning the titles of 'The Best Bar in Asia, sponsored by Perrier', and 'The Best Bar in Singapore'.
The 2020 list features 10 countries in Asia, with Greater China leading the list with 12 bars and two new entries. Other countries on the list also include Singapore, Japan, Taiwan, Thailand, South Korea, Malaysia, Philippines, Indonesia and India.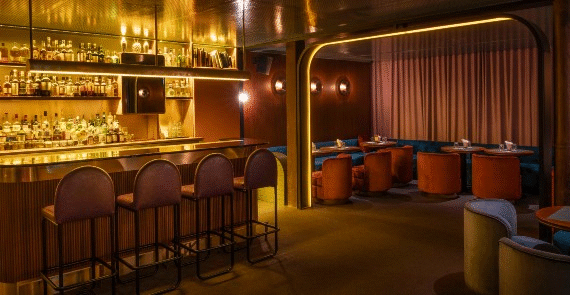 Image Credits : Asia's 50 Best Bars 2020 :Jigger & Pony Team + Interiors
The on-site ceremony, which was originally due to take place in Singapore for the third consecutive year at Capitol Theatre, was replaced with a virtual countdown.
After consulting with Asia's bar community and receiving its support, 50 Best decided to go ahead with publishing the 2020 list to provide recognition to the bars' and their teams' hard work over the past year, and to instill optimism and positivity within the bar industry as the continent begins to open up.
50 Best stands with the global bar community as it prepares to recover from this unprecedented situation. For more information on how 50 Best is helping the bar community, jump on to 50 Best for Recovery website.
Co-founded by Gan Guoyi and Indra Kantono, Jigger & Pony is a bar concept that specialises in thoughtful reimaginations of classic drinks. Innovative cocktails such as Mango Hazelnut Daiquiri and Mineral Vodka Soda feature alongside signatures such as its Ramos Gin Fizz. It first debuted on the Asia's 50 Best Bars list in 2016, and was ranked No.9 last year, winning the Highest Climber Award after rising 33 places in the list.
For the 2021 Asia's 50 Best Bars ceremony, 50 Best is also delighted to announce that it has confirmed its partnership with the Singapore Tourism Board to bring Asia's 50 Best Bars back to Singapore next year.
A. Amara Hotel, 165 Tanjong Pagar Road 088539
Comments
Singapore achieved 11 Best Bar awards this year including the following: Climbing eight places to clinch the No.1 spot is Jigger & Pony, also taking The Best Bar in Asia and Best Bar in Singapore awards, sponsored by Perrier. Other ranked bars included: Atlas (No.5), Native (No.6), Manhattan (No.8), Tippling Club (No.17), newcomer The Old Man (No.22 and winner of the London Essence Best New Opening Award), D.Bespoke (rising two places to No.23), Gibson (No.25), 28 HongKong Street (No.30), Nutmeg & Clove (a re-entry at No.32) and new entrant MO Bar (No.46).