In a world first, renowned Singaporean contemporary casual eatery, Rabbit Carrot Gun, has embraced Impossible Foods to create something truly special - an Impossible™ Scotch Egg!
Diners island-wide can experience the bold take on the traditional Scotch Egg from Thursday 27 June 2019 at Rabbit Carrot Gun's charity Pimp My Tuk Tuk Challenge pub quiz.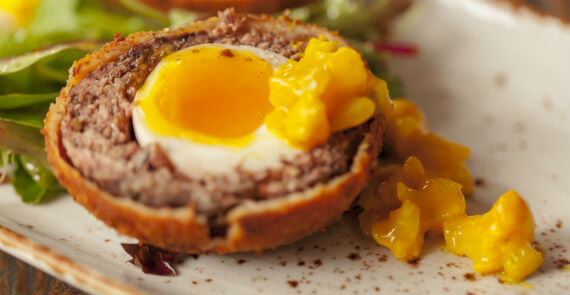 All proceeds from the quiz night are going to the Pimp My Tuk Tuk Challenge, an organisation that raises money for important humanitarian work in Sri Lanka such as education and infrastructure.
Meanwhile, diners at home can grab their Impossible™ Scotch Egg along with Rabbit Carrot Gun's full range of delicious contemporary cuisine exclusively via Deliveroo from Friday 28 June 2019.
Rabbit Carrot Gun owner and Scotch Egg aficionado, Tricia Goh, says that the inspiration for the Impossible Scotch Egg came about in the spirit of invention.
"We've already got our award-winning Scotch Egg on the menu, and every year we invite Singapore's top chefs to come and battle in our Scotch Egg Challenge", says Goh.
"It's all about pushing what's possible with new takes on classic dishes.  With the rise and rise of Impossible Foods, we couldn't pass up the chance to experiment with one of our best-known bites."
The result is a flavourful meat-free pub classic cooked to perfection. Impossible Foods has become an overnight household name as they combine science and purpose to save meat, and the planet. 
As the premier cafe and casual dining destination along Singapore's East Coast, Rabbit Carrot Gun's reputation for original, high-quality cuisine is well deserved. 
Whether it's serving up what is arguably Singapore's best Sunday Roast, or delighting diners with inventive takes on local and western staples, it's a place to sit back and let the world's cares retreat while you enjoy excellent service, food and drinks to suit every taste.
Located at 49 East Coast Road in a lovingly restored nearly century-old shophouse, and alongside sister venue and British-inspired public house, the famed Trenchard Arms, Rabbit Carrot Gun embraces Katong's laid back atmosphere and local flair.
Comments
Rabbit Carrot Gun is a casual dining restaurant with boutique accommodation, a unique offering located on the East Coast of Singapore Next door you'll find an intimate sister bar, The Trenchard Arms. You'll find this destination casual dining experience on the corner of East Coast & Ceylon Roads. Rabbit Carrot Gun passed the Sunday Roast test with flying colours. But best you book, as the roast selections of Pork, Beef, Lamb and sometimes Chicken are snapped up like hot cakes. First time around, I tried the Pork Roast. The serving size was massive and the taste was awesome. Last week we visited yet again. We had a brunch of Eggs Benedict and Smashed Avocado with Poached Eggs - both delicious - served with lashings of toast, cooked to perfection. There is an extensive menu at both outlets, so something for everyone, and you can pick and choose from either menu if you prefer. Both Rabbit Carrot Gun and The Trenchard Arms were packed to the rafters last Sunday. We always enjoy the experience grazing on our meals, indulging in desserts and progressing on to afternoon tipples of beer or crisp white wine. Guests can choose to seat indoors or out. During the week, Rabbit Carrot Gun is attracting a constant flow of diners from early morning to late in the evening and The Trenchard Arms is a great spot for a few cold beers and to watch the game. The atmosphere is relaxed and informal at both outlets, offering guests excellent British & International fare created from quality ingredients. Just like you, Rabbit Carrot Gun and The Trenchard Arms' owners love food. Have your palate delighted by these specially prepared meals. The Ploughman's Lunch consists of Honey Baked Ham or Melton Mowbray Pork Pie, Cheddar Cheese, Salad, Sliver Onions, Wholegrain Bread all served with Branston Pickle or Colman's English Mustard. Then there's the popular Gourmet Beef Burger, Handmade Premium Beef Pattie, Grilled to Order, Caramelised Onions, Topped with Cheese, Served with Fries. Enjoy sharing platters, Mains, Sandwiches - fit for a king, and delicious desserts and Ice creams at either The Trenchard Arms or Rabbit Carrot Gun. Highly recommended!