Take a culinary journey down to the streets of Lucknow and enjoy the spicy, sour or tangy flavours also known as "Chatpata". Tuck into street favourites such as Keema Pav, Chana Bhatoora, Egg Bhurji, Samosa Chaat and much more! Prior reservations required call or whatsapp +65 9385 5337
AWADH cuisine is known for its regal savoury flavours and now it is available as the genuine gourmet cuisine in Singapore. AWADHI promise you an exquisite experience packed with delectable flavours and fragrances that will take you on a journey of Royal AWADH. Sylvia Fernandes had the chance to enjoy a meal recently and this is what she had to share about the experience.
I felt royal as soon as I stepped into Awadh. Not knowing that this Lucknow food I was about to taste for the very first time in my life, was invented for royalty. Dubbed the French cuisine of India, up to 150 spices are used to cook this royal food. At the helm of this fine cuisine, sits a chef who has been acquainted with Lucknow food since he was eight.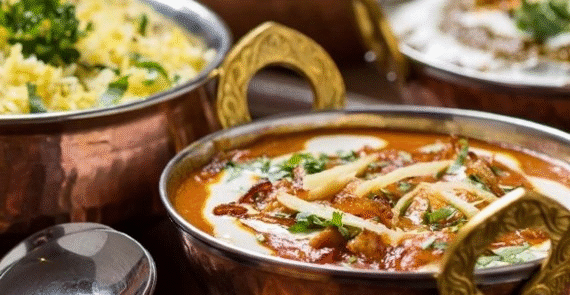 With recipes in his head, this not-so-heavy array of starters, mains and desserts were a joy to my palette. Why am I not surprised then, that you have to make reservations to dine at Awadh especially on the weekend. My favourite go to when dining at an Indian restaurant are kebabs. Awadh's signature Gosht Galawat is a melt-in-your-mouth mutton pattie with more than 25 rare spices used.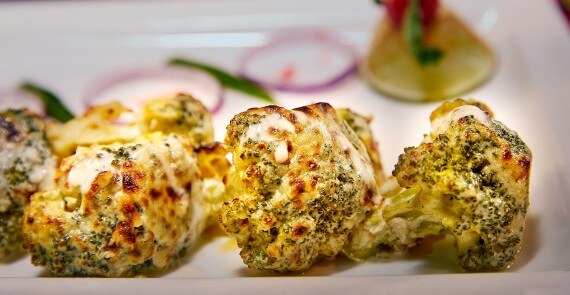 Image: The Awadh Reshmi Broccoli
I found the mince was ground so fine that it truly melted in my mouth. While this was excellent, my other favourite was the Bhattika Murgh, sizzling chicken marinated in whole spices. If you are vegetarian fret not for the Reshmi Broccoli chargrilled in a tandoor in a creamy cashew paste was stunning. So far, all three dishes a must-have on my next visit.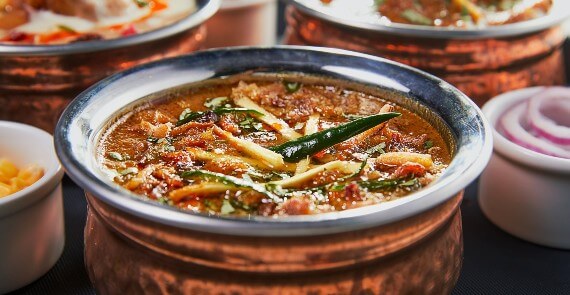 Image: Dum Subz Handi
I was ecstatic that the spices were so light and chilly did not overpower my palette. That is the biggest grind I have to axe with most Indian food, as spice does not sit well for me. Lucknow in pre-British times was called Awadh and this type of food was cooked for reigning Muslim emperors called Nawabs. I could understand why Awadh sees an outstanding 40% of customers order takeaways every week.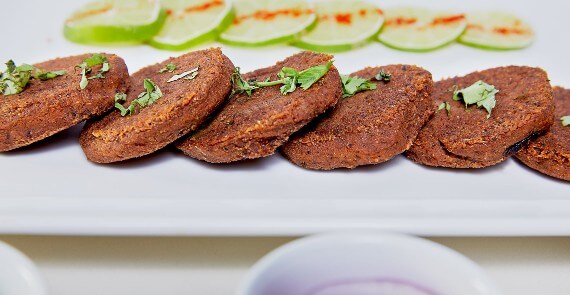 In fact, business has been so good since opening in January this year that Awadh owners know the proof is in the pudding. It is the only restaurant in Singapore that serves authentic Lucknow cuisine hence the uptake from satisfied diners. Despite being a fine dining restaurant, it is also wallet-friendly. The owners of Awadh wanted as many people as possible to try their food and enjoy it. In fact there are non-Indian diners like Japanese and Chinese, who have become regulars.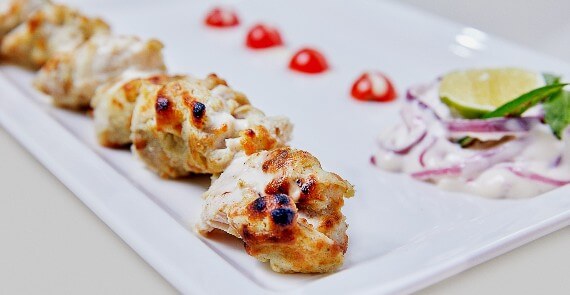 Image: Murg Chandi Tikka
As long as you are decently dressed Awadh welcomes you to enjoy a meal and feel relaxed in its comfortable setting. If you are on the hunt for food late at night, they are open till midnight. A huge convenience for those who love a late meal. Moving on to mains, my favourites were the Saag Paneer and Sultani Dal. So shocking to me as I am usually not fond of lentils but in this case, this was what shot to the top of my list.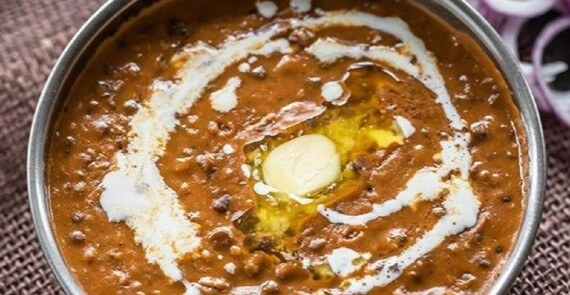 Image: Dal-e-Khaas; a nutritious preparation featuring lentils and a secret combination of Lucknawi spices
I later found out that the cottage cheese was made on the premises – no wonder it tasted so fresh. Eaten with a variety of breads, this was a pretty yummy dinner. It could be that my preference for vegetables in the main dishes was because I had eaten meat starters so this made for a great overall combo to round up the night. While Awadh has a bar, alcohol does not enter the kitchen. All meals are halal and care, is taken to even have a separate dishwasher. I find this a very respectful way of doing business, to care about diners' preferences.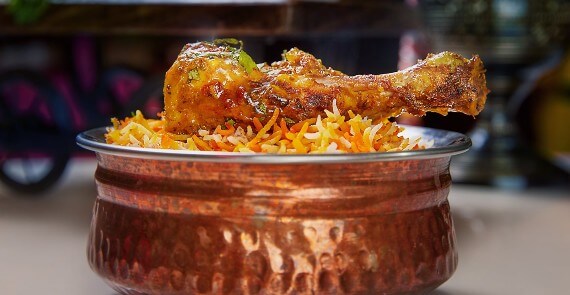 And this is who the owners of Awadh are! Totally hospitable and ever so gracious! You might think that was the end of my meal but it wasn't. The briyani which is something I look forward to is different in every part of India. I was told the Awadh style is cooked individually with different spices for the rice, meat and vegetables. Then mixed and served. I am sure you get the feel by now that Awadh stands in its own category, apart from the rest. Despite the use of so many spices, it is light and fine in taste. It draws a crowd even though it is situated at the very back of Centrepoint on Orchard Road. A great testament to the finely crafted food that is served!
INFORMATION
A. The Centrepoint, 176 Orchard Road, Singapore 238843, #01-33H
T. +65 9385 5337 (WhatsApp) or call +65 6909 9971
S. www.facebook.com/awadhdining/
Open from 11:00AM until 11:30 PM
Comments
Moghul cuisine in the heart of Orchard Road Specialty Lucknow cuisine from the Anandi region boasts a refined touch with bold spices and smokey notes favoured by the Moghul sultans. If you're looking for fine dining Indian cuisine in Singapore, but without the wallet burn or stuffy atmosphere, head to Awadh where a real treat awaits. Specialising in the cuisine of the royal kitchens of the Awadh Nawaabs who once ruled the Uttar Pradesh state of India, Awadh restaurant serves richly spiced dishes that are refined, flavourful and uncompromising. Awadhi cuisine is known for its kebabs, specifically, melt-in-your-mouth kebabs. And at Awadh, the Gosht Galwaat Kebab or mutton mince kebab is one of the specialities of the region. It is made with a staggering blend of 26 rare spices marinated into pounded meat and grilled to perfection. There are several different types of kebabs to choose from, chicken and vegetarian kebabs are light and make for a great starter. The spices are procured from Lucknow, the chefs at Awadh will have it no other way. There are over 250 different spices and blends in the Awadh kitchen, every dish painstakingly prepared and cooked for hours; just like how it was back then in the royal kitchens where chefs were known to compete with each other to come up with the best dishes for their indulgent rulers. Some of the menu highlights include Reshmi Broccoli marinated in cashew cream and chargrilled over a tandor, Bhattika Murgh pan-seared chicken in whole spices, best eaten with the very tasty and light flatbreads that are served at Awadh. Kurkuri Okra is another delicious accompaniment - crispy, crunchy, deep-fried battered okra that once you get started on it, you cannot stop. Ultimately, the true test of an Indian kitchen is in it's biryani. Awadh Murgh biryani is marinated in a blend of 40 different spices, boneless chicken and rice slow-cooked dum pukht style for over 6 hours. The recipe perfected by the Royal Bawarchis using sophisticated cooking methods is truly a testament to the cultivated palettes of the Moghul sultans. Although Awadh serves royal Lucknow Islamic cuisine, wines, beers and spirits are available to pair with the menu. However, the kitchen uses only halal ingredients although they are not a halal-certified establishment. There's no pork, nor lard used; and barware and utensils are stored and washed separately from the kitchenware. A cosy restaurant that has been running a brisk business since it's opening in January 2020, all due to word of mouth, Awadh is conscientious and authentic in its approach to royal Lucknow cuisine and truly deserves a visit.