This Chinese New Year, Neon Pigeon celebrates the Year of the Rat by featuring Japanese elements in their very own creation of a Prosperity Yusheng ($28++). 
Ideal for a group of 2 to 3, guests can look forward to a light and vibrant mix of cured salmon and fresh daikon salad, drizzled with a delicious plum sauce as they lou their hei (way) through the Lunar New Year!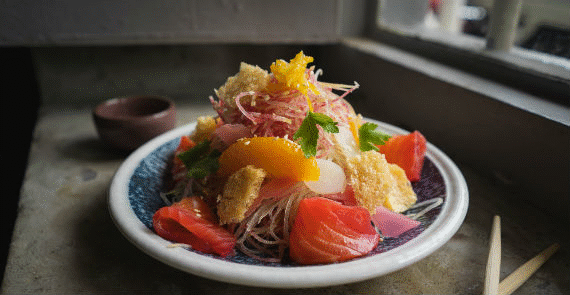 *Available for dine-in and takeaway at Neon Pigeon from 21 January to 1 February 2020
Neon Pigeon is located at 1A Keong Saik Road 089109 
For reservations, please call  +65 6222 3623
Comments
Looking forward to experiencing this fantastic place!
It was my first time here and the experience was orgasmic. We started with the Tokyo Hummus which was so perfect. A dip of edamame and curry chips this was simply my idea of an entree. We then tried the soft shell crab bao which was filled with crab and condiments oozing out of the bao. Every bit of this was filled with beautiful flavours. Even the vegetables like crispy brussels sprouts and blackened carrots were done to perfection. I loved the crab cakes as they were packed with fine crab meat and still had a moist texture. At this point we were full but greed got the better of us. So our last dish for the night ended up being the barramundi which sat on a flavoursome mentaiko and parsnip sauce. There was no place for dessert so we are definitely going back to try that. truly worth a visit and I can guarantee you, it'll have you coming back for more.