Hero Image: Gabbar's Shikampuri Lamb Chops and Gabbar's Paneer Pasand
Modern Indian Bistro & Bar, Gabbar, has curated 9 must-try dishes this Diwali which includes an all new Indian-Fusion "Dal Burrata" ($24++). 
Dal, a staple in Indian cuisine, has been a comfort food for centuries. Burrata, is an all time favourite amongst both locals and expats in Singapore. 
"As we have a mixed clientele of both locals and expats, we decided to create a fusion dish by mixing two popular dishes, Dal and Burrata together, which has turned out real yummy!", Rohan, Partner of Gabbar.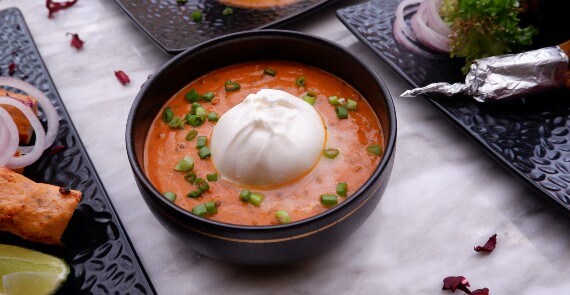 Image Credit: Gabbar's Dal Buratta
Non-vegetarian lovers can look forward to Gabbar's Shikampuri Lamb Chops ($26++) which is inspired by the Royal Corridors of Hyderabad, marinated with hung curd and spices, succulent in every bite.  Another highlight is Gabbar's Murg Gulabi Tikka ($22++) which is a combination of two popular flavours - rose and cardamom.
Understanding that local Singaporeans love their Dalchas with their Roti, the culinary team at Gabbar have created a Dalcha Chicken ($26++) which is a delicious boneless chicken, cooked in lentil gravy that is creamy and sinful.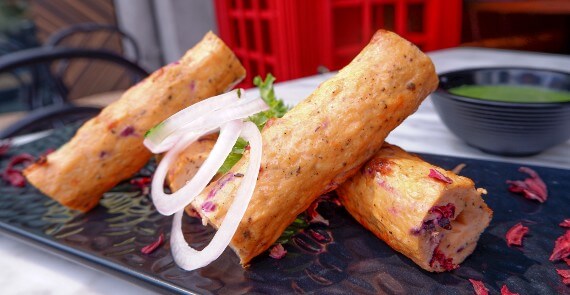 Image Credit: Gabbar's Murg Gulabi Tikka
For our vegetarian appetisers, Gabbar's Mushroom Galouti ($22++)  is a melt in your mouth Kebab of Kashmiri button mushroom, topped with tangy pineapple sauce with a crispy bottom. Their Paneer Paan Patta ($22++) are tender pieces of cottage cheese infused with Paan Patta, which is betel leaf that is an addiction amongst Indians. 
Gabbar's vegetarian main course this Diwali includes Paneer Pasanda ($24++), a rich curry of cottage cheese stuffed with paneer, Khoya, dry fruits, with creamy golden brown gravy.  Kolhapuri ($22++), which are vegetables tossed in the famous Kolhapuri Masala, a Maharashtrian specialty for spice fanatics.   Amritsari Makai Palak ($24++), a nutritious bowl of Amritsari corn tossed in a smooth spinach gravy. 
Gabbar's Weekend Diwali Menu is available from Friday 30 October 2020 to Sunday 15 November 2020. Friday, Saturday & Sundays: 5pm to 10.30pm 
Reservations are highly recommended via Chope or Quandoo or call +65 8755 5597.
Gabbar is located at 3B River Valley Road, #01-14, Clarke Quay, Singapore, 179021
Comments
Indian cuisine is one of my all time favourites. For me it's the epitome of healthy food being exciting. What??? Indian food healthy. Well yes, for sure it's the home of Ayuveda (Science of Life) and when your focus is on quality ingredients, adding all those healing herbs & spices, high quality oils or ghee, then what's not healthy? I mean there is a reason so many are downing their turmeric lattes now every morning! Of course, watching out for the diary can be problematic for those intolerance's but this place can cater for all. Now everything I ate here as part of their '9 Must Try Diwali' menu was fantastic! Their Paneer Paan Patta ($22++) are tender pieces of cottage cheese infused with Paan Patta, which is betel leaf, let's say I'm also joining the addicts of this betel leaf. Do note this place can also do Betel leaf ice cream, this is a must try!!! Taking in the main dishes I was happy that they definitely don't cut corners. With such high quality meats chosen for the lamp chops option & chicken, I decided this was definitely a day to be flexitarian. The winner for creativity absolutely had to be this fusion wonder of "Dal Burrata" ($24++) though. Importing fresh from Italy but combined with a very authentic rich dal, every mouthful was heaven. With a very experienced team running the kitchen despite a number of assumptions I made of what could a place in Clark Quay offer food wise. I'm now so excited to try more of the menu. To be honest, I think I just found my new favourite Indian!
Looking for a venue to celebrate Diwali? Well, look no further than Gabbar – a modern Indian bistro and bar placed strategically on the main drag of Clark Quay. I was there to try the special menu created especially for the festive season. Having perused the menu before arriving at Gabbar. where dishes like dal (lentils) and Burrata were curated into a modern fusion style dish, I was eager to try the fare which screamed ingenuity and difference. Having not been to Clark Quay since Circuit Breaker, I decided to stroll around before dinner at Gabbar. Many establishments had closed and those that were open had sporadic success – some totally full and others waiting in anticipation, for clients. On entering Gabbar I loved the space. It was large and I envisaged tables would be moved to create a dance floor, in pre-Covid days. I could imagine how the sound of music revved up this space after dinner, as a live band belted out numbers for clients to enjoy. The buzz while missing now, still emanated through this funky venue. Outdoor seating for those who wanted alfresco dining, to simply watch passers-by as they stroll down the boulevard in search of a place to eat. Gabbar is certainly well located and perfect for events which is exactly what Rohan, partner at Gabbar mentioned as he joined me at the table. A man who loves his wines, we started with a Riesling that paired well with the mushroom Galouti, a Kashmiri mushroom kebab. My first mouthful was unbelievable. A fusion of tastes burst in my mouth. Curry leaf on top of pineapple chutney to cut the spice of minced mushroom and give it a tangy touch. Yummo to say the least! Rohan also mentioned the menu had been created with cheeky names to shadow Indian actors and favourite movies. In fact the name Gabbar too was chosen from a 2015 Indian Hindi-language vigilante action film. A good idea I thought, to engage the client immediately into some conversation, fun and laughter. The cottage cheese starter that followed was infused with betel leaf, another totally different take on flavours, I had never tasted in Indian food before. This seemed to be the style of things to come. True enough, the chicken tikka was infused with rose and cardamom. Wow! My total favourite as my palette welcomed the unusual flavours I had not been expecting. So subtle and well blended by Cuban Head Chef Alex @ Gabbar. As the pair of Shikampuri lamb chops hit the table, I savoured the taste of mixed spices marinated in yoghurt, which I envisage would have been infusing for hours. By this time, I was starting to fill up. Rohan said there were many more dishes to come and we switched to a divine wine I totally loved called Arcane XIX. So well paired with Indian food. In fact, the dishes at Gabbar while well spiced weren't firecracker level. I would say its food that fits every palette with a spicy end that reminded me that I was in an Indian restaurant. For people who love the burn, you could request to take the spice level a notch higher. This is what we did for the cauliflower Kolhapuri. As you might know, there are more than one hundred varieties of parathas one could have in India. Chef Alex churned out three varieties for me – turmeric, chilli and pepper. So subtle and delicious, these parathas accompanied the gravy dish that I'd been waiting for – dal Burrata. The delicious black lentils were so flavorful that it was obvious it had been simmered for many hours, 24 to be exact. Another favourite of mine and a MUST when you visit Gabbar. For an ex-banker, Rohan and partners certainly put the menu and venue together well. It wasn't Diwali yet but I already felt the celebration. I was almost at the end of Gabbar's specially curated 9 must-try Diwali menu. I thought I had seen it all until the paneer Pasanda arrived. Cottage cheese filled with dried fruit and pistachio dunked in a creamy gravy, I felt I had reached heaven. The right amount of sweetness blended right into the spice, with neither flavor overwhelming, this was my favourite. I know I had a few other favourites before this but this was so different, something I had never tried before on many of my Indian sojourns. By the time I got to the last two dishes of spinach and chicken cooked in lentils I surrendered. I could see why Gabbar brought the customers in. The spacious open concept plus great food and wine made for a winning formula. Gabbar's Weekend Diwali Menu is available from 30th October to 15th November 2020 only from Fridays to Sundays from 5pm onwards. So well-priced too, Gabbar has obviously thought of their clients' pockets. Outside of the Diwali season, brunch at Gabbar is a hit. With a bottomless brunch concept, it runs from 11.30am to 3pm. With many alcohol options it is extremely popular so most weekends hit full capacity. The welcoming feeling and warm hospitality at Gabbar is what you will experience when you visit. I know you will love it as much as I did. Happy Diwali to our Hindu readers!
Tried the Lamb Chops and DAL Burrata yesterday, best Indian food I've tried in a long time in Singapore. Meat was Juicy and the fusion dal was a treat! Paan Patta was so fresh in flavour that I couldn't stop myself from eating the whole thing - food was on the heavier side in all honesty. Price was fair, service could do better, ambience was spot on!