Punjabi cuisine heavily reflects on the origins of their agricultural traditions and as a huge contributor of dairy goods to the country, there's nothing like a Punjabi feeding you butter chicken. Join Rebecca Assice Founder and Owner of Virtual Room as she discovers a Diwali menu to be reckoned with.
I was intrigued and excited to be invited to try Punjab Grill's special Deepawali or Diwali $99++ set menu. Indian is one of our go-to Sunday night takeaway cuisines – it's hearty, full of flavour and travels well so it's just as delicious at home as it is in the restaurant.
It's almost a weekly ritual for us. But one look at the menu in store for us and it was clear that this was no ordinary Indian dining experience. Stepping into Punjab Grill's prime location at Marina Bay Sands, the abundant use of glass, metal and plush upholstery transport us to the luxe era of India's Maharajahs yet with a distinctly modern feel.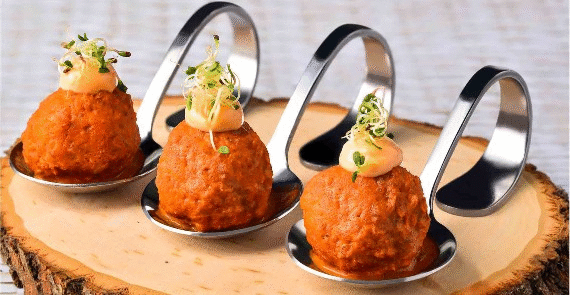 Our table offers an insiders view into the kitchen where one can observe the chef's in action at the hand-beaten copper tandoors. We are heartily greeted by the exuberant Executive Chef Javad (twice winner of Asian Cuisine Chef of the Year*) who introduces us to the special menu, explaining some of the history behind the restaurant.
Punjab Grill inspires its menus from India's richly diverse Northwest frontier province of Punjab – where gourmet metropolises like Lahore, Peshwar and Multan serve up traditional dishes that Javad blends with the secret recipes of the royal kitchens, adding in his special dash of fusion and panache.
Our palates salivating as the aromas waft through each time the kitchen door opens, we are served our first course, the amuse bouche. WOW! This is a serious contender for the best thing I have tasted all year. It literally blew my mind and I had to tell my dining companion to stop talking and start tasting.
It was remarkable, I was convinced it was a chicken dish but instead it was a cleverly disguised soy protein served with a creamy beetroot sauce and the most delightful explosion of delicate Indian spices.
The flavours lingered long after the first morsel and I was hooked, glancing back at the kitchen door to see when the next course was arriving.
Each course was both presented beautifully and a veritable delight for our tastebuds and I enjoyed watching the fusion elements marry so wonderfully with the traditional Indian dishes – from the Jackfruit served in Taco shells to the pesto chicken Seekh Kebab – I was truly blown away by this exotic yet delicate Diwali menu.
To top off our experience, I was fascinated to be served my first Indian wine – made by three Italian brothers from the renowned Fratelli Winery and grown in Maharashtra.
We sampled the Chenin Blanc and found its fresh crispness a perfect complement to the Indian spices, with aromas of peach, lemon and melons it was hard to distinguish from the classic Loire Valley brands.
So there we have it – a true Indian fine dining food AND wine journey. No feelings of fullness or carb comas here – we ended our meal feeling satisfied and enraptured by this very special Diwali menu.
* Awarded by the World Gourmet Summit
About the Menu
A special menu design by Chef Javed. Singapore's premier and award-winning Indian restaurant Punjab Grill is proud to launch its Deepawali Special menus and Sweet boxes for 2020.
The term "Deepawali" defines the rows of diyas, or clay lamps. Diwali festival celebrates Lord Rama's return to his kingdom Ayodhya after finishing his 14-year exile. Diwali is also celebrated as "Kali Puja", and Kali in West Bengal. In southern India, the festival commemorates the conquering of the Asura Naraka, a king of Assam who imprisoned many people.
It is believed that Krishna released the prisoners. Many Buddhists in India mark the anniversary of the Emperor Ashoka's conversion to Buddhism around the time of Diwali. Deepawali or Diwali is a festival of lights signifying the victory of righteousness and the lifting of spiritual darkness.
Punjab Grill is the North Indian Mother's kitchen for Singapore. From serving four types of kebabs excluding the vegetarian variations to popular dishes from gourmet metropolises such as Sarson da Saag (vegetarian curry made of mustard greens and spice) and Makki di Roti (flat, unleavened bread made from corn flour), a visit to Punjab Grill will make you feel royal with their space inspired by the splendor of India's Maharajas.
In true Deepavali or Diwali spirit, the restaurant is celebrating this Festival of Lights with an exquisitely crafted menu priced at $99++ ( Non-Veg and Veg versions are available.
The Non-Veg version includes Chef special amuse Bouche of the day, Watermelon slider mix seeds chaat with crispy spinach, Murgh Pesto Seekh Kebab and a Pesto flavored Chicken Seekh Kebab.
Jackfruit cooked on the Tava with Indian spices and served in Taco shells followed by Fresh fish fillet marinated in southern spices cooked in clay oven with fish skin Crackle powder. Served with coconut snow foam.
Mains include Chicken Tikka masala Roulade, Tava grilled Exotic Vegetable, Pandan leaves Oum pulao and the Deepawali Bread Bazzar served with Masala puri, Missi Roti, Dry fruits Kulcha and tlal chawal paratha all topped off with the Punjab Grill Dessert Platter.
INFORMATION
a. 2 Bayfront Avenue #B1-01A The Shoppes at Marina Bay Sands, 018972
s. www.facebook.com/punjabgrillsingapore/
ABOUT VIRTUAL ROOM
Virtual Room is one of the world's best team-based virtual reality experiences and is now in Singapore. Blending the escape room concept with a full 3D cinematic experience to deliver a unique, immersive and mind-blowing adventure. Played in groups of 2, 3 or 4 players where each player has their own dedicated room – you will talk to each other, walk around, bend, throw objects and collaborate together to solve the puzzles and challenges. Expat Choice readers enjoy a 15% discount when you book Virtual Room experiences with code EXPATCHOICE15 and receive a 15% automatic discount when booked online at https://singapore.virtual-room.com/booking/
Comments
In true Deepavali or Diwali spirit, the restaurant is celebrating this Festival of Lights with an exquisitely crafted menu priced at $99++. It also announced a colorful and vibrant range of Sweet Boxes in multiple sizes, an "Executive" Mithai box with options for 32 pcs Sweet or 16 pcs Sweets and 4 varieties of dry fruits and a "Jannat" box combining only sweets. The hand-crafted sweets include: Sensational sugar free dates & figs Delights Blueberry cashew Katli Alphonso mango & white chocolate Burfi Hazelnuts & rose petals Roulade For more information, contact Chef Javed at
[email protected]