Baan Ying has been serving authentic Thai cuisine in Singapore since 2018 and they are pleased to announce the launch of 'One Meal Around Thailand', with the support of the Tourism Authority of Thailand.
Available until 30 September 2019 for lunch and dinner, 'One Meal Around Thailand' offers an unprecedented Thai feast featuring authentic flavours of North, South, North-East and Central Thailand, promising a memorable experience of unique dishes and flavours.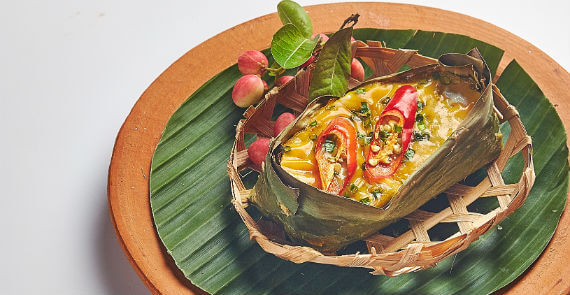 Baan Ying Khai Pam - Grilled Omelette
Three set menus for two, four and eight persons are available, priced at $58.80++, $128.80++ and $298.80++ respectively.
Diners enjoy a generous spread of a welcome drink, amuse bouche, four types of Nam Prik (Thai Chilli Dip) served with seasonal vegetables, Som Tum (Green Papaya Salad) with assorted toppings, frozen Butterfly Pea and Coconut palate cleanser shots, delectable Kub Kao (main dishes) as well as Crème Brûlée Cha Thai (Thai Milk Tea Crème Brûlée) and herbal tea to end the meal.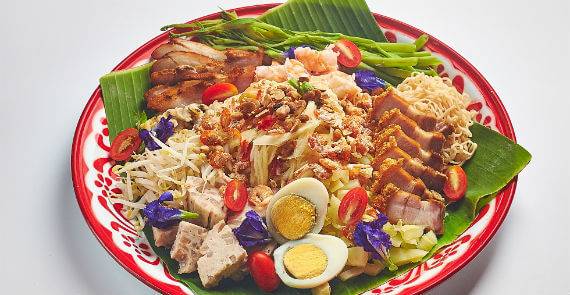 Baan Ying Som Tum - Green Papaya Salad with assorted toppings
'John' Songsorn Junsunjai, co-founder of Baan Ying, says "Thai cuisine is multi-faceted and fascinating. By combining the specialties from four regions in 'One Meal Around Thailand', we hope to provide an opportunity for foodies to gain valuable insight into the intricacies of our culinary culture."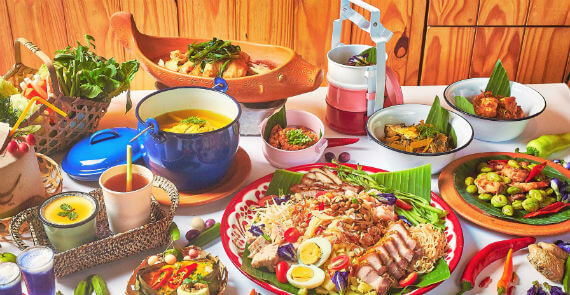 Baan Ying One Meal Around Thailand
Founded by John and his mother, affectionately called 'Aunty Ying', Baan Ying – which means 'House of Ying' – began as a humble restaurant of just eight tables at Bangkok's Siam Square in 1999, and now boasts ten outlets across prime locations in Bangkok.
Unlike most traditional Thai restaurants, Baan Ying's bright and airy space features a minimalistic interior design. Other than greenery placed strategically in the restaurant, botanical nuances are also present from the lush trees that line Thomson Road, visible from its row of floor-to-ceiling windows that welcomes natural light.
The interior is complete with natural wood and rattan furniture, as well as bamboo fixtures on the walls. True to the founder, Aunty Ying's belief in family and communal dining, an expansive table that seats 16 can be found in the restaurant. It is made with a single piece of wood and is a common feature in all Baan Ying outlets, including in Singapore.
The restaurant is known for its best-selling Baan Ying Omelette Rice (various prices) whereby diners can personalise their velvety egg omelette with their choice from a list of 20 toppings, complete with a bowl of steaming rice.
Other popular dishes include Kaeng Kua Hed Tob and Hoy Mang Poo (mussels and puffball mushrooms in fragrant curry, $16.80++), Khao Pad Nam Prik Noom (Baan Ying's signature homemade green chilli fried rice, $12.80++) and the Kai Jiew Maha Poo (Full of Crab street omelette, $48.80++).
All diners who order 'One Meal Around Thailand' will stand a chance to win a three-day, two night trip to Bangkok that includes flight, accommodation, a meal in Baan Ying, Bangkok, and a pair of tickets to a Thai boxing show!
More details can be found at www.baanying.sg
*prices correct at tme of original publication 2 August 2019
Comments
A mere two min walk from Novena station Baan Ying surprised me with its unconventional interior design. Expecting to see the usual Buddha statues and traditional Thai décor I was amazed that Baan Ying was set up quite the opposite. This gave me a hint that the food on offer would be quite different too. The ring of "Sawasdeeka" as I entered was always welcome. It put a spring in my step as memories of my trips to Thailand came flooding back. As I sat down I looked around. Light cane furniture coupled with wooden tables and simple lines of tall green plants with glass all around, gave this space such a light feel. Baan Ying was definitely created by someone who knew how to relax patrons. Looking through the menu I saw most of the dishes were things I had never seen or heard of before. There were more dimensions to this food. As a foodie this piqued my interest - I was up for an adventurous gastronomical ride. The much loved Thai coconut arrived. Baan Ying curated a special menu called One Meal Around Thailand at a cost of $298.80++ for 8 persons. This is a menu that features four major regions of Thailand. Affected by geographical and cultural preferences of the people, Baan Ying's owner wanted to change peoples' perception to Thai food. Only opened in mid 2018, Baan Ying Singapore is the first and only outlet outside of Bangkok where they have 10 outlets. This brand is well established having been in Bangkok for more than 20 years. Spicy chicken mince larb was up for grabs first. With a mound seated on a round fresh cucumber, this was something I had eaten many times before which made it a wonderful, familiar pre-cursor to what I would taste today. I moved on to appetisers of Nam Prik from 4 regions. Carrot sticks, cucumber and raw okra were to be accompanied by four very different condiments. In order of most spicy to least I was induced into a very new world that hailed from different regions of Thailand. Nam prik, a birds eye chilly paste ground so fine that a dollop on my cucumber was enough to give me that heat rush through my body. I loved it like the people from the North did! With a sip of chilled coconut water I tried the dried shrimp chilly dip. This was made with tiny shrimp, sun dried, grilled and then crushed. Easy to use as a condiment on rice or anything really, this was a bit of a hit. The southern region people obviously like bolder flavors. The third condiment from the North East region was Thai eggplant chilly dip. Even though I am not an eggplant fan I found this very tasty as I could taste the flavor of green chilly which is what this dip was made of. Last of all was the Central region minced pork and salted fish coconut milk condiment which was my favorite as it was so different. I pulled the condiments aside and beckoned to the waitress not to take it away as she served the next dish. It was too precious to waste. While devouring the starter, the som tum platter (papaya salad) with assorted toppings was being prepared right by the table. In fact if you would like to make your own you are encouraged to. This is where you could temper your spice level by adding two, four, six or eight chillies. I opted for the six! Crazy or courageous I don't know! Very timely that the palate cleanser arrived. Chilled frozen butterfly pea tea and coconut shot which was purple in color, this had a lime base which hit the spot. Especially after the fiery salad which was actually stunning in textures. It was time for the very different mains I had read on the menu. The salted fish and morning glory in coconut milk soup, a Central region delight and a Southern specialty chicken in turmeric broth was served with white rice. The morning glory was outstanding. It won the Man of the Match award. Such full flavors the salted fish was not subtle and added to the overall taste of the dish. I had never seen or tasted morning glory so thick and crunchy. Responses to this very unusual dish? I was told just like durian, you either love it or leave it. The turmeric broth was light and subtle full of chicken flavor which would be a highly palatable dish for those who shy away from spice. Exactly like tom yum with no spice you can imagine the flavor of lemon grass permeating through this dish. Next up was the fried sea bass in tamarind soup. This dish should be served as soon as it is served to savor the crispy fish before it soaks in the tamarind soup. Also a lovely flavorful soup which could double up as a curry if you wanted to eat it with rice. Many of us who grew up in the South East Asian region are familiar with petai – a bitter bean which is great as a kidney cleanser. It is traditionally cooked with a prawn sambal chilli sauce. At Baan Ying however this was stir fried with shrimp and mince pork. Never had I tried anything like this before. So as someone who loves this bean I devoured every mouthful of this with a spoon of rice. Simply delicious! By this time I was already beginning to feel my tank fill up. Looking around me I noticed the façade of a beautiful church front. It was like sitting in a restaurant in London looking out at St. Paul's Cathedral only here it was the famous Novena Catholic church. What a stunning backdrop! The pork belly curry arrived. Interestingly it had a sweet tinge to it. Rather unexpected as I was ready for a pungent number that would surely fire through me. I was told it had a Burmese influence, almost like a Japanese curry and less sweet than a Massaman curry. While most diners would probably cut the thick layers of fat off, I had every morsel of it. I am always up for a good thing! Thank goodness the last dish of grilled omelette was light. Eggs broken and stirred with a stock, then grilled and steamed this was similar in principal to a chawanmushi in a Japanese restaurant. So yummy and a wonderful way to end the savoury part of my meal. Desserts to me I either totally love or cam easily say no to. In my daily life attempting to keep in good health I choose to cut dairy from my diet. As the Thai milk tea crème brulee was served I said I would have a tiny taste but ended up eating the whole thing! That is how delicious it was. So contrary to what I would expect at desserts in a Thai restaurant I was totally wrapped with this dessert. It is a must try when you visit Baan Ying. Another unexpected were herbal teas – lemongrass, mulberry and bael (a fruit found in India I am told) that were so unique in offering. Baan Ying has the capacity to seat 126 people in its 2800 square foot space so this is a perfect spot for a private event. And if you are interested to book in for this set dinner of 20 pax be sure to let Baan Ying know a week in advance. Only around from 9 July to 30 September it is a must try if you'd like a tour of Thai food without the inconvenience of travel. I have to say this was such a unique experience, one that the founder of Baan Ying (who passionately carried all his crockery from Thailand to Singapore) intended for patrons to experience. He succeeded well! In true Thai style the little add-ons are also a charming touch. Every diner at this set dinner leaves with a bar of soap – turmeric or jasmine rice scented, feeling healed and refreshed from having activated their senses. I hope you will try it soon. Be different be spoilt!