Image Credit: Jamie's Italian
From simple suppers and family favourites to communal weekend brunches with friends, Jamie Oliver shares a treasure trove of superfood recipes in his latest cookbook, Veg.
Whether it is to embrace a meat-free day or two each week, or simply a fun guide for some brilliant homemade recipes, Veg spotlights an exciting initiative for home cooks to get inspiration from all things (not always) green.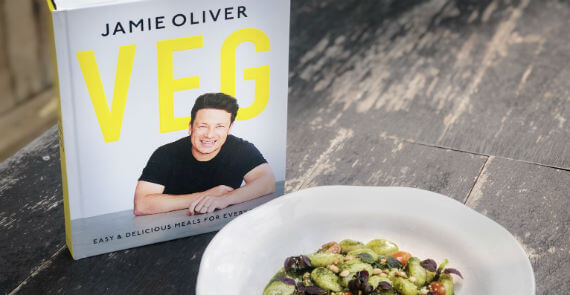 In conjunction with the launch of Jamie Oliver's cookbook, Jamie's Italian Singapore (VivoCity and Forum) presents a generous spread of meat-free alternatives that will rotate on a weekly basis as part of the "We Love Veg" campaign.
From now till 30 November 2019, diners can look forward to daily vegetarian specials inspired by the very same recipes found in the cookbook.
For a lunchtime fix, opt for the two-course set lunch specials menu ($27.95++) where vegetarian options will also be made available, presenting diners with a choice of creative starters and a featured main.
Notable vegetarian specials currently on rotation include Homemade gnocchi with herby pesto, made from a generous blend of fresh basil, mint and parsley leaves, with a hearty dose of walnuts and veggie parmesan.
Another highlight is the Mushroom penne, made from passata (strained, uncooked tomatoes) and a medley of mushrooms including the rich and earthy porcini, tossed in finely chopped toasted hazelnuts for good measure. 
The "We Love Veg" vegetarian specials are available all day at both Jamie's Italian Forum and Jamie's Italian VivoCity.
A two-course set lunch menu is available from Monday to Friday from 11.30am to 3.30pm, while daily à la carte specials are available from 5.30pm onwards on weekdays and all day on weekends.
With an order of any vegetarian specials, each guest will receive a 10% bounce back voucher to be used on their next visit.
Comments
Fantastic and article. Thanks for sharing.
Celebrating all things Veg #JamiesVeg at Jamie's Italian Singapore chefs at the Forum and VivoCity outlets have taken inspiration from Jamie's brand new cookbook to offer guests awesome Vegetarian options until 30 November 2019. Don't forget to check out Jamie's #VEGEPEDIA for loads for tips, facts and videos on loads of other wonderful veggies! https://www.jamieoliver.com/vegepedia/