Embody the spirit of the rat with strong vitality and celebrate the prosperous Lunar New Year by feasting on the familiar, celebratory classics with a signature Hard Rock twist!
Hard Rock presents an exclusive selection of food and beverages for you to indulge in the tradition of "Lo Hei" with your family and friends and invite the stream of endless prosperity and fortune through the taste of delicious classics.
Amalgamating the flavour of Hard Rock and the Chinese cuisine, you can enjoy these special Lunar New Year food and beverages from Monday 20 January 2020 to Sunday 09 February 2020 at both Hard Rock Singapore and Hard Rock Sentosa.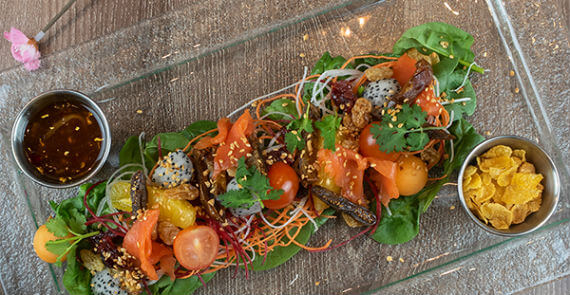 Inspired by the tradition of "Yu Sheng" (Chinese) / "Lo Hei" (Cantonese) which symbolises the act of tossing special ingredients to gain an abundance of good fortune and longevity, this salad is served for you to engage in this tradition by doing a "Prosperity Toss" using all the ingredients of the salad.  In a nutshell you will toss smoked Norwegian salmon with a salad of baby spinach, beetroot, carrot, radish, dragonfruit and rock melon served with golden tangerine dressing. ($24.95)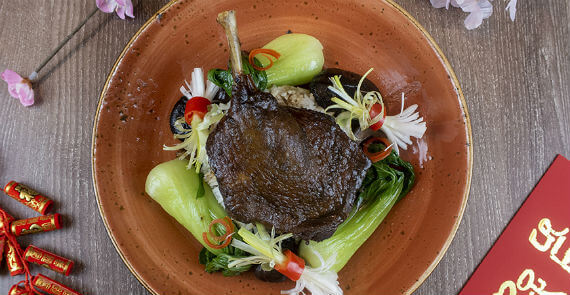 Infusing a traditional Chinese flavour to duck leg, this special dish incorporates a mixture of traditional Chinese cuisine elements such as bok choy and steamed fragrant rice, representing endless prosperity and good luck.  Enjoy a braised succulent duck leg with shitake mushroom, roasted chestnuts and bok choy served on steamed fragrant rice. ($29.95)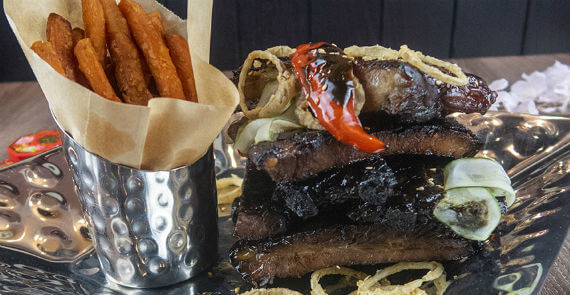 Symbolising immense strength, luck, wealth and an abundance of blessings, a pork dish is a musthave during Lunar New Year, this dish is perfect for sharing . A1.2kg fork tender baby back ribs glazed with home-made honey marinate and smoked to perfection, served with crispy fried shallots and sweet potato fries ($69.95)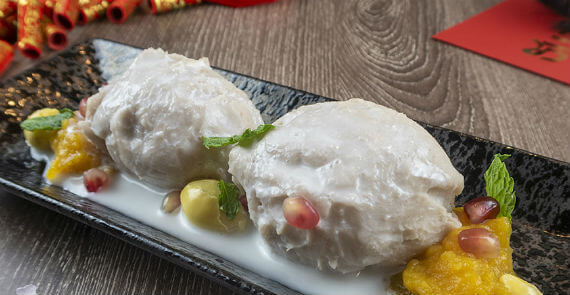 To end the meal with a sweet dessert, Orh Nee (a traditional Chinese dessert) is served where the inclusion of pumpkin represents prosperity while coconut promotes a sense of unity between family and friends. This is a home-made steamed sweet yam paste served with pumpkin puree, boiled ginkgo nuts and coconut milk. ($14.95)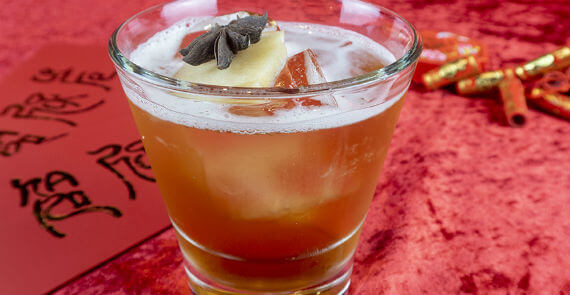 When it comes to drinks, Ginger is considered the strengthening food in the Chinese culture as it aids with digestion and provides nourishment for the body.  Try the Ginger Moon! Jack Daniels bourbon and home-made ginger cinnamon syrup topped with ginger ale ($22.95) or the Prosperi-tea. Redefining the classic Long Island Iced Tea, this cocktail is topped with one of the flowers which is known to usher good luck: Hibiscus. Refreshing mix of Gordon's gin, Smirnoff vodka, Bacardi rum, fresh lemon juice topped with soda and home-made hibiscus syrup ($23.95)

or call to reserve a table at either venue on +65 6235 5232
Comments
Hard Rock Cafe is always a travel must. I always like to grab the iconic t-shirt in every city I visit saying Hard Rock Cafe 'Singapore' what a clever marketing scheme that is! We all know the memorabilia is always impressive and Singapore doesn't disappoint here. The mostly American style food is double the size most of us are used to so being slightly on the expensive side, I guess you get what you paid for. It is also recently renovated and looks great!
This is a biased review as I am a Hard Rock junkie! Whenever I travel anywhere in the world that has a HR Cafe, I always make sure I go. The food serves are ridiculously huge and I advise sharing some starters and a main between too. The cocktails are great. Its overpriced, but you are paying for the "experience" (which I love). The recent refurbishment has really been a massive improvement and the live acts are awesome. Sunday night is kind of like an open mike night and I highly recommended going then!