Rocking up to Bar-Roque Grill, I was about to try their collection of home-made aged cheeses and cured meats served at the Sunday Brunch. Chef Stephane Istel, the man behind it all, is paying homage to French traditions and his childhood. 
Easily accessible in the heart of Tanjong Pagar, Bar-Roque Grill which used to be closed on Sunday is now open for Brunch from 11am to 3pm and dinner from 6.30pm onwards.  Having tasted the fare at Bar-Roque I would say the house specialty is their aged meats so this meaty offer looks like a great deal!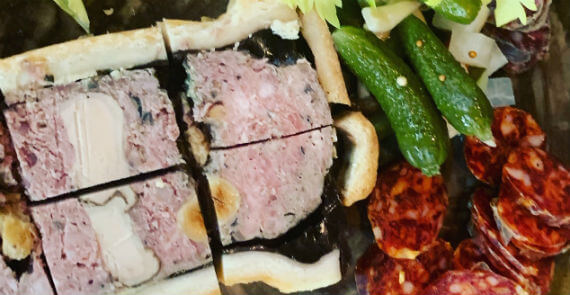 So much of the fare is made in-house from meat that is dry aged to terrines, rillettes, cottage cheese and charcuterie. Before I started lunch, Chef Stephane beckoned to follow him to the chiller where he explained the process of ageing meats, sausages and cheese.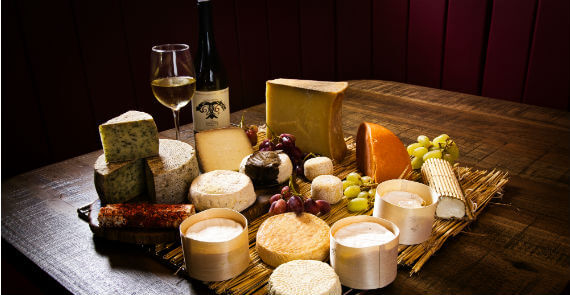 Some cheeses are matured in house where fresh milk is obtained locally, from goat and cow farms, then pasteurised. Always looking to refresh his menu, Chef Stephane enjoys creating new produce for diners to enjoy. 
Organic pork is imported from Australia but there are also beef and lamb sausages as options. With all types of sausages on offer – smoked and dried, this array of charcuterie is full of flavour. All to do with patience and allowing the meat to come into its own, while flavours develop. Totally delicious and worth waiting for!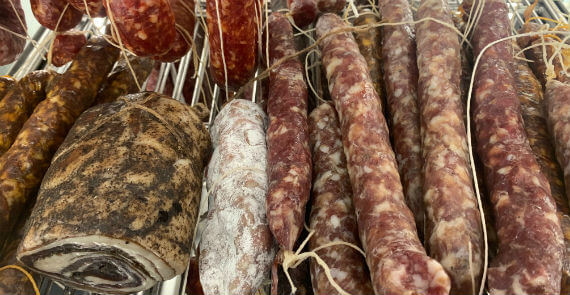 Bar-Roque has been operating for six years in Singapore and once a year Chef Stephane brings his Mum in from Alsace to cook with him. Coming up on the 24 June 2019 only for a week, this is certainly a time to book in and savour the delights that this Mum and Son team concoct. 
Together, they'll be serving a variety of well-loved Alsatian recipes, from tarte flambée to choucroute and Mama's homemade desserts. A special a la carte menu has been created for this Alsatian week.  With fresh ingredients from Alsace and a different menu for this special week I would highly recommend that you book in early. Not only is there food to relish, my favourite wines come from this Region too.
I started lunch with a glass of Alsace 2014 Riesling, Domaine Dischler to pair with the cheese and charcuterie platters that were in front of me. If I wanted a light lunch or dinner it would be very satisfying to visit Bar-Roque Grill and have exactly this. 
So satiating to the palette and filling to the tummy, I could feel like I was sitting on the French Riviera enjoying time out with a friend. Prices are also very reasonable. A charcuterie platter that has seven varieties of rillettes, pate and terrine is $56, more than enough for three people to share.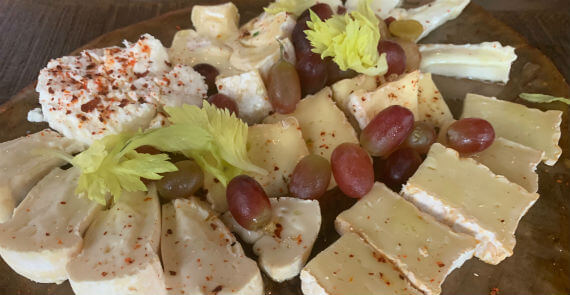 If you prefer a cheese platter for $26 that can be paired with the heirloom tomato salad which is made up of burrata cream, basil and white balsamic. I dunked my brown toasted crunchy bread into the bowl and soaked up the full rich taste of olive oil that generously flowed over the green, red and maroon coloured tomatoes. 
My next visit will see me order just this for $24 with a glass of wine – so wholesome and fulfilling! The grilled haloumi salad which had falafel, eggplant and Za'atar dressing was also something I would shout about.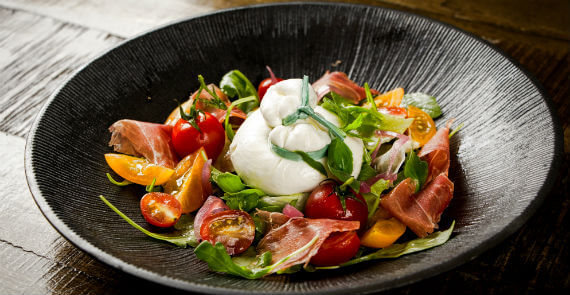 Bar-Roque Grill's Sunday brunch has all of these yummy salads not forgetting the spinach salad with pear, walnut, wolf berries and gorgonzola dressing. Chef Stephane wanted to showcase the use of cheese in salads while still keeping it light. It was evident he achieved this with the fusion of salad dressings that elevated each dish.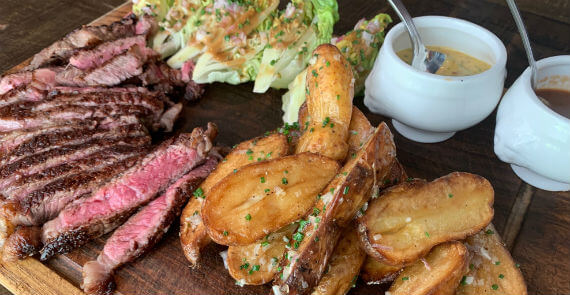 As I moved to mains, the house dry-aged prime ribeye took the crown for the day. Served with potato wedges and baby romaine salad, the meat was succulent, textured and nothing I had ever had before. 
Grilled to perfection the taste was second to none. I now understand the difference between normal and dry-aged meat. There is a definite difference in texture as water in the meat has been drained.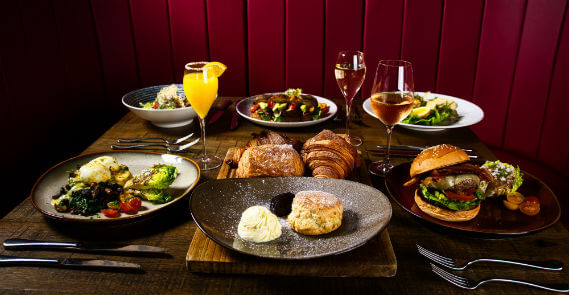 Served with any number of sauces you like, there are options to choose from – béarnaise, black pepper, mushroom, red wine, blue cheese and creamy horseradish. Personally the meat was so tasty I shunned sauces today! 
Priced at only $42 for a 250g Black Angus ribeye this is certainly a must try. It shows off the hard work of Chef Stephane in the background. Other cuts of meat are also available at Bar-Roque Grill including hanging tender wagyu, tomahawk and beef wellington amongst others.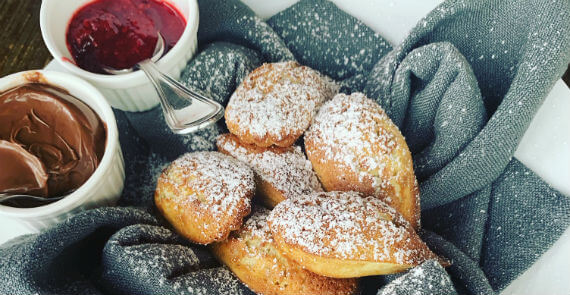 A warm basket of freshly baked Madeleines with Nutella and raspberry sauces were the last order of the day. I don't need to go to France to enjoy such delightful treats. For $14 I felt the eight madeleines served were top value. For those who are traditionalists looking for a crème brulee, chocolate fondant or tarte tatin, these are available and yummy too. 
Bar-Roque also own a winery in Languedoc. Wines 6469 come in rose, white and red varieties, all of which are priced at $45 and $65. I find good restaurants usually hit patrons with exorbitant wine prices but Bar-Roque are affordable in the $70-$80 range. For the wine connoisseur who is looking for a more expensive bottle these are certainly available too. 
Apart from Sunday brunch, should you be in Tanjong Pagar or looking for a set lunch in the CBD area, a three course menu is priced at $38. This includes an appetiser, main course and dessert. 
For the quality of food and drink that I had today I would be knocking on Bar-Roque Grill's door pretty soon. Whether it be for Father's Day, Alsatian week, Sunday Brunch or a set lunch you will be in for a treat!
INFORMATION
a. 165 Tanjong Pagar Road #01-00 088539
Comments
No regrets trying this place out. Great service. I had the Wagyu hanger steak with an add on of Pan-fried foie gras. I have to say...it's a very generous portion of add-on. The steak was very nicely done in medium rare as requested. The special recommendation of the Beef Carpaccio by our service staff Kamal was simply lovely. Kudos to the Chef for the delectable menu selection. The yellow tail ceviche is also a must-try. Thank you for the great experience! Shared by Vee Vee who recommends Bar-Roque Grill on Facebook