What do you think about Highlands Malt Whisky Trail Dinner,Bedrock Bar & Grill, Wednesday, 3 July 2019, 7pm to 10pm?
Hero Images: AnCnoc 24 Year Old and Bacon-Wrapped Wagyu Petit Fillet Baked Cauliflower Black Garlic Butter
Experience the ultimate 5-course Whisky pairing dinner at Bedrock Bar & Grill, one of Singapore's best loved steakhouses.
The one-night only dining experience will feature specially curated dishes paired with awardwinning Highlands Malt Whisky.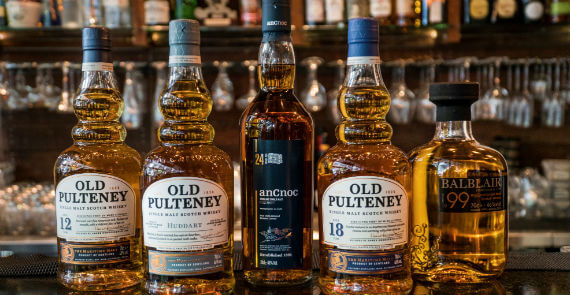 Highlands Malt Whisky Dinner Selection
Guest Speaker Paul Warathep Chandeeraj from International Beverage, will be at hand to share insights on the whisky showcased – which includes the Old Pulteney 12 Year Old (with citrusy and salty back notes that complement perfectly with seafood, creamy white chocolate, and caramel flavours of homemade fudge), the Balblair 1999 (aged in an interesting combination of American oak, ex-bourbon barrels and Spanish oak ex-sherry butts, it has a taste of autumnal fruits and ground winter spices, that blend beautifully amongst toffee apples), and the anCnoc 24 Year Old (with a spicy taste with hints of candied orange slices, warm honey and worn leather).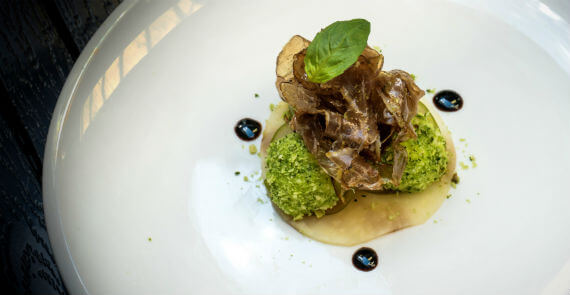 Cured Beef Tri-Tip Mozzarella Apple Celeriac Salad
These will be paired with exclusive creations including the Cured Beef Tritip (with Mozzarella, and Apple Celeriac Salad), Bacon-wrapped Wagyu Petit Fillet (with baked cauliflower and black garlic butter), and the Smoked Free Range Chicken (with Cured Foie Gras, Brussel Sprouts and Thyme Jus).
To make a reservation, contact T. +65 6238 0054 E. [email protected] A. 96 Somerset Road, #01-05 238163 
$110++ per guest
Bedrock Bar & Grill is a modern grill restaurant and whisky bar, opened in December 2008. Designed by award-winning design consultancy firm AvroKO from New York, its warm and intimate setting showcases outstanding design with organic elements such as unfinished wood, rough granite and custom-made plush leather booths.
Just after its first year, Bedrock Bar & Grill garnered two accolades – 'Best New Restaurant' by Singapore Tatler's Best Restaurants Guide 2010, and 'Best Independent Restaurant, Runner Up' by Time Out Best of Awards 2010 – testament to its quality dining and service approach.
Distinguished chefs marked by a respect for tradition and product crafted the award-winning menu. Wood grilled, smoked hot or cold, with exotic spices or keeping things classic; the selection of meat cuts and seafood are sourced from the USA, Japan and Australia's farms for superior quality and sustainability. The bar carries a wide collection of rare and old single malt whiskies from around the world.
Comments
Having the right attitude at the start, deserve excellence credits for services & quality food served. Easy to access location, alight at Pan Pacific Serviced Suites Orchard or via Somerset station! We have enjoyed birthday celebrations at Bedrock Bar & Grill a few times and it is excellent!
Great steak! The service is excellent too. My wife steak came without the correct doneness and they actually replace it with another one. The steak taste better than the one I had at Morton's and will recommend people to go. Last but not least, the day that we visited is my husband's birthday and the restaurant actually prepare for him a free dessert and they also took a Polaroid photo at the restaurant. 10 out of 10 brilliant experience!