This festive season, Jamie's Italian Singapore presents a scrumptious selection of Christmas Specials at their Forum and VivoCity Outlets, and the return of Lunch Semi-Buffets in celebration of Christmas Day and New Year's Day.
With the theme of generosity in mind to spread this season's festive cheer, Jamie's Italian Singapore partners with Singapore Children's Society and Club Rainbow (Singapore) to support the children beneficiaries.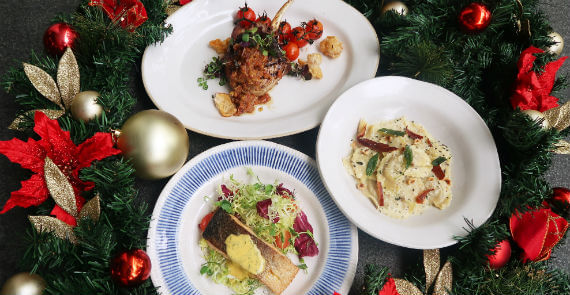 Pictured: Jamie's Italian VivoCity for the Homemade Stuffed Turkey Ravioli and Soffritto Vegetables ($29.95++)
Available from 1 December 2019 to 1 January 2020, Monday to Friday from 5.30 pm onwards, all-day on Saturday and Sunday.
Guests can look forward to month-long Christmas specials at both Jamie's Italian outlets.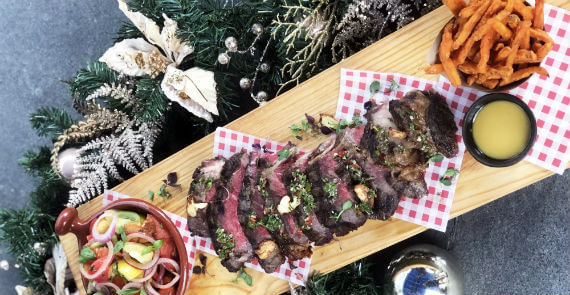 Over at Jamie's Italian Forum, guests can look forward to the Black Angus Tomahawk ($152.95++) with Panzanella salad, honey mustard dressing and chimicurri and sweet potato fries.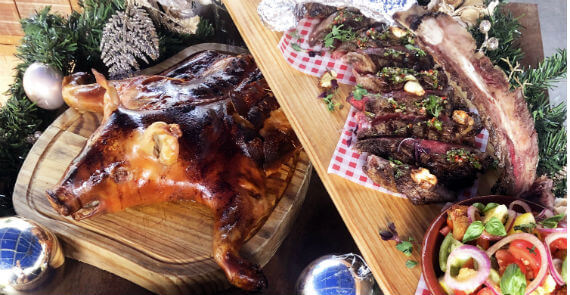 Other stand out items include the Baby Sucking Pig ($150.95++); a succulent, juicy baby pork baked until crispy and served with new spring potato, apple sauce, chili sauce and rocket & radicchio salad and the Italian Alba's Truffle Risotto; a silky black truffle Carnaroli risotto served with aged parmesan, aromatic herbs and shaved truffle ($39.95++).
Jamie's Italian VivoCity has a different selection including the Homemade Stuffed Turkey Ravioli and Soffritto Vegetables ($29.95++), served with brown butter sage sauce, crispy pancetta, and topped with aged Parmigiano Reggiano and toasted chestnuts, a Sustainable Norwegian salmon served with frisee & endive salad & silky dill hollandaise  ($31.95++0 and the Free range succulent pork chop brined with cider with sweet & savoury maple bacon chutney  ($35.95++)
With every order of the Christmas special, diners will be entitled to spin a Christmas Wheel and stand a chance to win prizes like a pizza and pasta masterclass. Diners will also receive a $10 food voucher to be used for their next visit!
As part of the partnership between Jamie's Italian and the children beneficiaries, $1 will be donated to Singapore Children's Society for every Christmas Special order at Jamie's Italian Forum, while $1 will be donated to Club Rainbow (Singapore) for every Christmas Special at Jamie's Italian VivoCity.  
Available only on 25 December 2019 and 1 January 2020 respectively.
Exclusive to the Jamie's Italian VivoCity outlet, diners can indulge in the trattoria-style communal feasts with the return of Lunch Semi-Buffets on Christmas Day and New Year's Day.
Kickstart the festivities on Christmas Day with a buffet selection of cold platter starters, special mains such as Festive Roast Turkey from a live station, and classic desserts like Mini Cheesecakes with Blackberry compote and Homemade tiramisu.
These, and not forgetting the Risotto, Pasta and Pizza Pass-around Selections to spread the festive cheer with food! 
On New Year's Day, Jamie's Italian VivoCity ushers in 2020 with a buffet offering of savoury starters, special mains including Roasted Striploin in red wine sauce from a live station, and decadent dessert selections featuring the Epic Chocolate Brownie and Eaton Mess.
In addition, diners can enjoy 20% discount on Prosecco bottles for every full paying dining adult
Available for bookings from now to 1 January 2020 at Jamie's Italian Forum and Jamie's Italian VivoCity.
Guests looking to celebrate Christmas in groups can also opt for three exciting variations of a 3-course set menu, starting from $35++ per pax. A 50% deposit is required upon confirmation with a minimum of 3 working days in advance.   
Jamie's Italian Forum is located at Forum, 583 Orchard Road, #01-01/04 238884 For reservations, please call +65 6655 7676 or visit HERE
Jamie's Italian VivoCity is located at VivoCity, 1 Harbourfront Walk #01-165/166/167 098585 For reservations, please call +65 6733 5500 or visit HERE
Comments
As Christmas and year-end celebrations approach Jamie's Italian is all set to go. Armed with a variety of offers I ventured into The Forum outlet to see what I could look forward to in the month-long Christmas specials. So consistent with Jamie's style to spread the Season's cheer, the Singapore Children's Society and Club Rainbow (Singapore) have been chosen at partners. That means a dollar will be donated for every Christmas Special order. I know I've got you wondering now what the Christmas Specials are. Well three amazingly delicious treats are on the menu. The Black Angus Tomahawk with honey mustard dressing and chimichurri which was my favourite condiment, served with Panzanella salad. The rich taste of red meat blended well with the light tangy taste lift of chimichurri. For red meat lovers who prefer duck, the very difficult-to-cook duck confit is another Christmas Special. I feel festive and special when duck confit is on a menu and often order it when I frequent restaurants that offer it. Free range duck leg served with celeriac puree, cranberry and orange sauce with pomegranate this was served with my all-time-favourite sweet potato chips. Crunchy on the outside and soft on the inside I ate the whole bucket of chips! The third Christmas Special on offer is the suckling crispy pig. You either love it or not as the crackling and fat may or may not be your style. Served with new spring potatoes and a choice of apple or chilli sauce this dish is accompanied by a rocket and radicchio salad. Vegetarians fret not. The truffle risotto cooked by Head Chef Aaron was truly delicious. Not much of a risotto fan as I usually find it fills me up fast, this was light to the palette and a portion big enough that I would happily share with another. Speaking with Chef Aaron at Jamie's Italian the theme of bringing Italian home-style cooking to every home rung true. Having watched Jamie's cooking shows and seen his passion to influence and promote healthy eating, I was reminded of this. For a booking of three or more, there are bronze, silver and gold menus. At very reasonable prices of $35++, $45++ and $55++ respectively these are a steal for a three course meal. I see Jamie's Italian as a fabulous opportunity for families or corporates to book in, as the combo of good pricing, great food and fabulous ambience lends itself to a perfect lunch or dinner. If you are on the hunt for a place to have Christmas or New Year's lunch, the semi-buffet menu is available at Jamie's Italian in Vivocity. From cold platter starters, to special mains at a live station, ending with classic desserts this is something to consider. Kick start the festive Season to enjoy this scrumptious selection of treats and call in to make your booking soon. Happy Holidays!
A buzzing and stylish yet cozy space, Jamie's Italian Forum at Orchard evolves throughout the day. Drop by for a quick lunch or an early evening meal before a movie – one of our fantastic thin-crust pizzas, or a bowl of fresh pasta and a colourful side salad. The bar is perfect to unwind after a hard day at work with our Aperitivo Hour, or for a bottle of wine and some tasty nibbles with your friends after a weekend shopping spree. Whatever the occasion and time, Jamie's Italian Forum at Orchard will always be a great place to meet, socialise, eat and drink.
Set along the beautiful waterfront facing Sentosa island, once inside you'd almost forget that our gorgeous restaurant is located in Singapore's largest shopping mall. The relaxed, buzzy space is the perfect spot for quick weekday lunches, mid-shopping pit stop, indulgent weekend dinners and everything in between. The al-fresco area is exceedingly lovely, ideal for after-work drinks or a sunny cup of coffee. You can also book our private dining room for your celebrations – it's a great space for parties up to 14 people.