Many of us have travelled to Japan, so when you hear someone mention Hokkaido, you will undoubtedly think of delicious locally produced food.
Synonymous with astounding sightseeing spots and stunning landscapes which attract countless visitors annually, Japan's northernmost island has the ideal environment for producing crops and raising livestock. And now, expats, Singaporeans and visitors to our awesome Island can enjoy some of Sapporo, Hakodate and Asahikawa's most well-loved food stores in Orchard Central at the Hokkaido Marche. 
At this marketplace-style food hall, you can enjoy a variety of authentic Hokkaido fare without burning a hole in your pockets. The seven shops offer yummy donburi - "a rice bowl dish" consisting of fish, meat, vegetables or other ingredients - topped with fresh seafood and pork, curry rice, soba, udon and not forgetting to mention a delicious slurp-worthy ramen.
A café and bar complete the exciting line-up at Hokkaido Marche, which is located in Basement Level 2 at the populat Orchard Centre above the Somerset MRT station.
Diners can look forward to feasting in a relaxing space based on the concept of a Japanese yatai (a group of open-air food stands). Don't miss out on the divine creations dished out by Hanamaru, a standalone sushi restaurant right opposite to Hokkaido Marche.
With a huge array of dishes to pick from at reasonable prices, there's something for everyone. Experience the sweetness of Hokkaido's Hanamaru (Sushi) nutrient-rich vegetables and fruits such as wheat, potatoes, corn and melons, all of which are products of the prefecture's favourable soil and climate conditions. Some of the nation's best seafood, beef and dairy products also originate in Hokkaido.
At Hokkaido Marche, you can savour all these and more! So, bring along your family, friends and visitors to Singapore and make Hokkaido Marche your new favourite Japanese food haunt - right in the heart of Orchard Road.
Dot Cafe & Bar
(Beverages)
Sarrasian Bar Dot is a shop located in downtown Susukino in Sapporo. The bar opened as cafe + bar dot in Asahikawa city, Hokkaido in March 2001 and renewed as sarrasin bar dot in April 2006. In Sapporo, under the concept of Sarrasian = soba, it is known as a relaxing space where delicious sake and soba is served. 
Soba is the Japanese name for buckwheat. It usually refers to thin noodles made from buckwheat flour, or a combination of buckwheat and wheat flours. They contrast to thick wheat noodles, called udon. Soba noodles are served either chilled with a dipping sauce, or in hot broth as a noodle soup.
Kaisen Natsume
(Seafood Sashimi Bowl)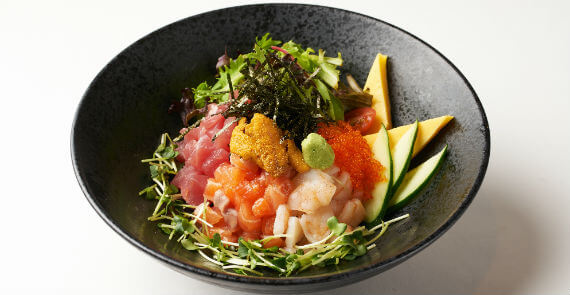 Image: Kaisen Don Sashimi at Kaisen Natsume
Food is maybe the only universal thing that has the power to bring everyone together. No matter what culture, everywhere around the world, people get together to eat. Kaisen Natsume's menu changes with the evolving availability of fresh ingredients and a wide variety of fishes and seafood sourced from Hokkaido, Japan.
No matter how tasty your menu, customers won't come back if they have bad experiences with customer service. And that is the reason why at Natsume, we believe in the importance of excellent customer service. A smile alone doesn't guarantee excellent customer
service, but excellent customer service almost always starts with a smile. You can visit their website at www.sushi-natsume.com
Maruya
(Donburi/Curry)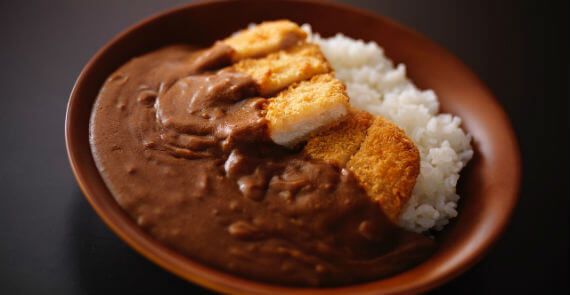 Image: Maruya's Pork Chicken Katsu Curry
Maruya is a famous Donburi food place located in Hokkaido Sapporo. Donburi is a Japanese "rice bowl dish" consisting of fish, meat, vegetables or other ingredients simmered together and served over rice. Donburi meals are served in oversized rice bowls also called donburi. Donburi are sometimes called sweetened or savory stews on rice.
Maruya has over 130 years of history from his parent brand Soba Maruki. Honestly, what's not to love about donburi? Quality, Authentic, Affordable & Delicious Japanese Food in a comfortable and casual ambience for family and friends. Enjoy Donburi together with many choices of sauce and topping featuring their popular Katsu-Don, Oyako-Don and Curry. What's better than a delicious bowl of donburi to satisfy those hunger pangs.
Yakitori Tsuyoshi
(Yakitori/Buta-don)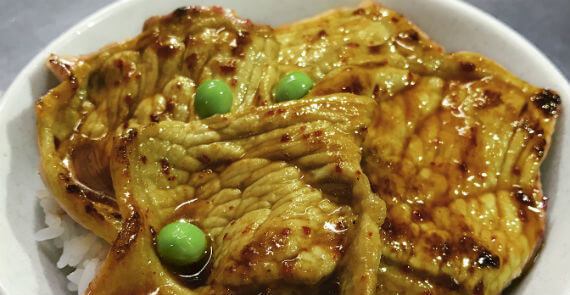 Image: Yakitori Tsuyoshi's Buta-Don Soy
Yakitori is a word with a lot of sentiment attached and is oftenassociated with most child-hood or long-ago memories in every Japanese kid. Yakitori Tsuyoshi is the place in Singapore to experience Yakitori the "local way". The first Yakitori Tsuyoshi outlet opened at Hokkaido Asahikawa in November 2000. Yakitori Tsuyoshi specialises in grilled skewered chicken, using only the best locally-selected ingredients from Hokkaido.
Another favourite food item not to miss is the "Buta-Don", a pork rice bowl, topped with a Yakitori Tsuyoshi secret sauce (pictured above) which is enough to bring back fond memories of that distinctive taste of Hokkaido. You can visit their website at www.yakitsuyo.com
Soba Maruki
(Soba/Udon/Tempura)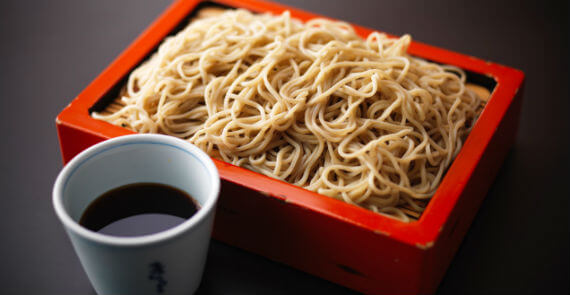 Image: Soba Maruki's Mori Soba Cold
Learn about the art and history of Soba - thin noodles made from buckwheat flour, or a combination of buckwheat and wheat flours. Maruki has more than 130 years of Soba making experience behind them. Offeing delights of Soba noodles made with all-natural ingredients, Hokkaido soba powder - without MSG. Sake goes well with Soba...just saying!
Soba and Sake has for generations been popular with office workers in Japan for after-work drinks and a feed. You can visit their website at www.mado-sapporo.jp 
Shirakaba Sansou
(Ramen)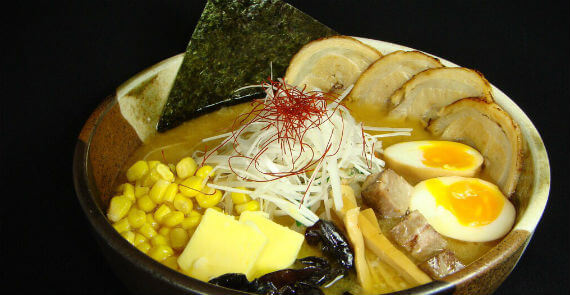 Image: Shirakaba Sansou's Ramon Miso Special
The nickname of " A Legendary Miso Ramen" isn't something Shirakaba Sansou came up with. The nickname refers to the Miso Ramen from Shirakaba Sansou located in Sapporo Ramen Yokocho. Yokocho means alley in Japanese.
Unlike others, their Miso clear soup is covered with a thin layer of oil that keeps the heat. The soup is a rich broth, most likely a pork bone-seafood blend soup. But neither the flavour of the pork bone or seafood overpowers, making this a well-balanced miso flavoured soup. Shirakaba Sansou has been expanding rapidly since its first outlet opened in Sapporo, with others outlet in Hakodate, Tokyo, Fukuoka and Kyoto. In their opinion, making a good bowl of ramen must come from the heart and doing it passion is essential. You can visit their website at www.shirakaba-sansou.com
Hokkaido
HAKODATE AJISAI
(Ramen)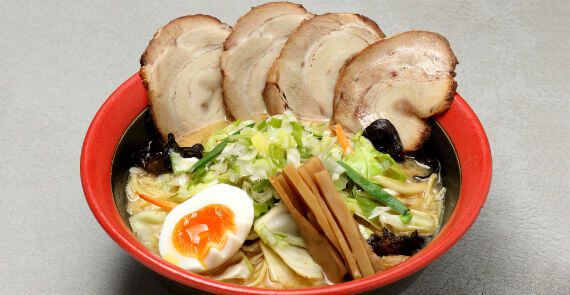 Image: HAKODATE AJISAI Miso Chashumen
Located in Hakodate, in the southern part of Hokkaido, "HAKODATE RAMEN" brand - AJISAI" is famous for their shio (salt) ramen shop - a "must try" if you're a fan of shio ramen!
Having a history of 80 years in ramen making since its introduction, AJISAI has harmonised traditional and modern flavours. AJISAI's most recommended dish is the 'Shio Ramen'. Using pork, chicken, and natural rock salt on a base of kelp produced in southern Hokkaido, this soup is clear with no bitter taste and is even popular among women.
It also tastes excellent with the shop owner's special made-to-order straight noodles or with juicy roast pork on top of the noodles. Flavourful broths and tender cha shu - a taste of Japan in a bowl. Try it now.  You can visit their website at www.ajisai.tv
Hanamaru
(Sushi)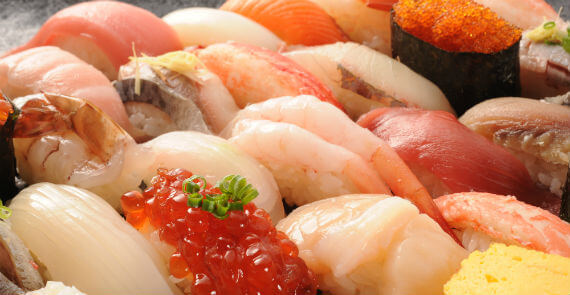 Image: Hanamaru Sushi
Hanamaru is the sushi shop in Nemuro whereit all began. It is one of the representative port towns in Hokkaido. The seas near Nemuro are known as Japan's rich fishing grounds and the Nemuro Port is alive with the harvest's of fresh fish throughout the year. Some of their stores are conveniently located in places such as station buildings. 
There are 13 stores in Hokkaido and 3 in Tokyo. Among them, 10 stores are Kaiten-sushi - conveyor belt sushi restaurants, 4 are normal sushi bars, 1 stand-up sushi bar, and 1 Ichiya-bosi store (Fish salted and dried overnight) and a Kaisen don store. Kaisen Don is a Rice Bowl with different Sashimi placed on Sushi Rice. You can visit their website at www.sushi-hanamaru.com
An authentic sushi bar where you can taste sushi and a-la-carte dishes all while being able to observe the chef's splendid hand skills within the graceful Japanese atmosphere. Various kinds of Sake, an original Japanese alcoholic rice wine, are available. They have their own local Nemuro flavour as well as others from around Japan.
Sake has a lovely flavour and is enjoyed with every kind of sushi. In addition to counter seats, there are comfortable tables and chairs, or the more traditional Japanese-style seats, all to suit any occasion.
Comments