Picture Credit: Jamie's Italian - The Ultimate Plank
A month-long celebration for the 2019 upcoming National Day at Jamie's Italian VivoCity and Jamie's Italian Forum (19 July - 11 August 2019) 
As National Day draws near, there's no better way to celebrate than to dig into a feast of Singapore-inspired dishes! Specially for the occasion, the team at Jamie's Italian Singapore has come up with scrumptious a la carte specials with a splash of local flavour to pique your palate, taking cues from Singapore's melting pot of races and cultures.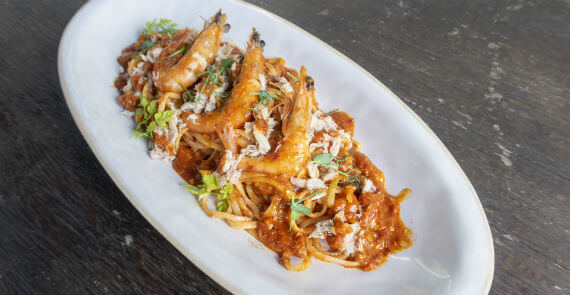 Jamie's Italian Forum - Chilli Crab Pasta
At Jamie's Italian Forum, the Chilli crab pasta ($32.95++) comprises a sweet and savoury tomato and chilli sauce, crab meat and prawns, tossed with homemade fresh pasta; as well as Tandoori lamb chops ($45.95++) marinated in aromatic spices and yoghurt and served with a tangy mint sauce. There's also a Jamie's Italian take on the Cendol ($16.95++) by topping coconut-infused panna cotta with pandan-flavored jellies, slow-cooked sweetened red beans and gula melaka.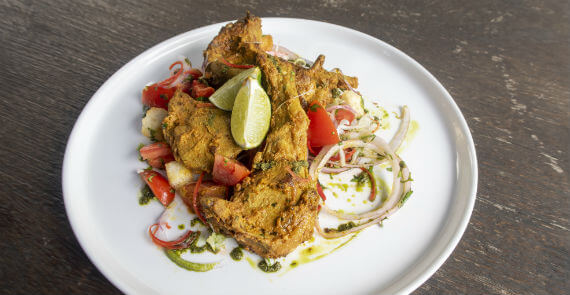 Jamie's Italian Forum - Tandoori Lamb Chops
Back by popular demand at Jamie's Italian VivoCity, the Chicken Rice Risotto ($34.95++) delivers a twist on the local favourite dish of chicken rice by featuring succulent free-range chicken, broccolini cooked in a silky carnaroli risotto, and a side of homemade chicken rice chilli sauce, cucumbers and garlic chips.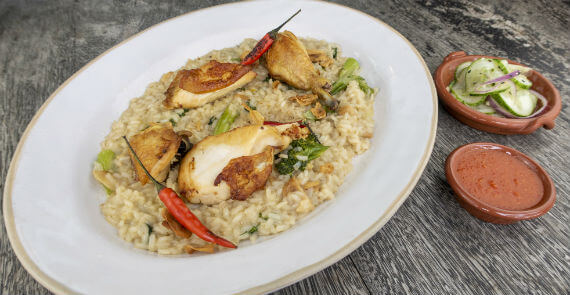 Jamie's Italian VivoCity - Chicken Rice Risotto
Diners at the VivoCity outlet can also sink their teeth into succulent and flavoursome Rendang beef cheeks on soft polenta ($34.95++) of higher-welfare Australian beef cheeks braised till fork-tender and served with a homemade rendang sauce of coconut cream, lemongrass, lime and cinnamon, on a bed of soft Italian polenta.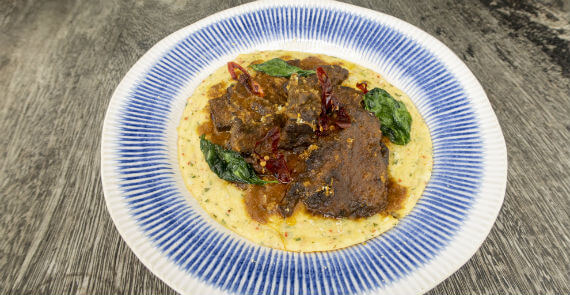 Jamie's Italian VivoCity - Rendang Beef Cheeks on soft polenta
Special Notes: 
The full range of offerings available for this month-long promotion can be referred to below:
Jamie's Italian VivoCity

Dishes:

Chicken rice risotto ($34.95++)
Lamb kheema pizza ($29.95++)
Rendang beef cheeks on soft polenta ($34.95++)

Drinks:

Bagheera ($16.95++)
Teh ping ($6.95++)

Jamie's Italian Forum

Dishes:

'Cendol' ($16.95++)
Chilli crab pasta ($32.95++)
Tandoori lamb chops ($45.95++)

Drinks: 

Singapura twist ($16.95++)
Citronella ice tea ($11.95++)
Comments
I am not going to review the food or the prices as that has already been reviewed by others, although I did not have a problem with either. I am reviewing the little know Private Room that is at the back of the restaurant hidden away behind sliding glass doors and a thick red curtain. The room has a large oval table and we seated 13, seated on nice comfortable armchair style dining chairs, I believe more can be seated with smaller chairs. The lighting above the table is single drop copper lighting that creates a warm ambience. The volume of the music can be individually controlled and so the right ambience can be created. The floor to ceiling windows have a screen so during the day you can see out but looking in is restricted Throughout the evening I was impressed with all aspects of the service provided; the waiter who, quite rightly, advised me that I had requested too many jugs of lemonade and perhaps I should order less and see how that went (he was right!), all the food arrived correctly and at the same time (doesn't always happen with a large group!), late arrivals and change of meal order were accommodated in a friendly manner. At the end of the evening the bill was presented to me and not my husband, I appreciated this as I was the one that had made the booking and organised all the arrangements. We had access to the room from 5pm and the staff knew who we were as soon as we arrived (the giant 1 and 7 balloon may have given it away) and we were advised that there was no rush to leave, so the guests did not vacate until 10pm at their leisure, the staff knew the booking was for a 17 year old birthday so no alcohol would be served; I'm sure this was a very low profit booking for them but at no time were we made to feel less important because of that. To be honest, all of the above should be provided as standard but very rarely do I organise a function where there isn't something I have to change, sort out or organise myself but not this time. I was able to enjoy my evening as if I wasn't organising an event and my daughter had a thoroughly wonderful evening, thanks to the staff at
[email protected]
Vivo. chrisali31 recommends Jamie's Italian VivoCity Private Dining Room on TripAdvisor