What do you think about Brotzeit celebrates White Asparagus harvest from farm to table until Sunday 9 June 2019?
Main Image Credit: Brotzeit Spargel Mit Barramundi and Brotzeit Spargel Im Speckmantel
Nature hibernates in winter, recharging its magic to create wonders in spring, such as white asparagus.
Treasured for its tender sweetness, Germany's "white gold" takes its place amongst Brotzeit's classic Bavarian favourites once again. For just three precious months a year when white asparagus is exclusively in season, we have the pleasure of having its deliciousness grace our palates from starter to dessert, served with a spread of exquisite accompaniments fit for the King of Vegetables.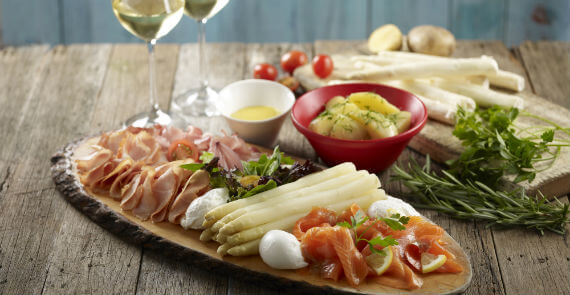 Brotzeit Spargelplatte
Brotzeit serves white asparagus in true German spirit. Its Spargelplatte (White Asparagus Platter, $79 for 400 grams of white asparagus in hollandaise sauce, served with black forest and gammon ham, smoked salmon, poached eggs and parsley potatoes) is the heartiest celebration of spring to be shared with friends over some of the best beers in the world.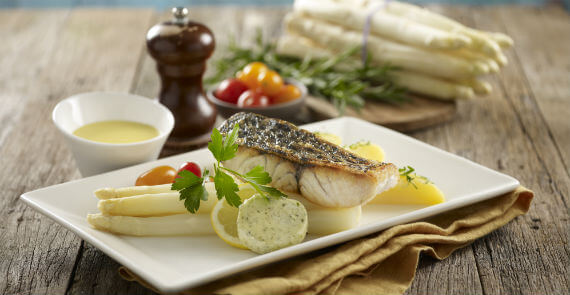 Brotzeit Spargel Mit Barramundi
Spargelzeit (white asparagus season) is one of the most anticipated and iconic festivals in Germany as the nation welcomes the first signs of spring. As always, this farm‐to‐table white asparagus is served authentically German, with a modern Brotzeit twist.
Guests can also enjoy white asparagus with prime cuts like grilled beef tenderloin in the Spargel Mit Rinderfilet ($39), or pan seared barramundi in the Spargel Mit Barramundi ($32). The journey aptly completes with the freshness of spring in the Zitronen Käse Creme Mit Spargel (Deconstructed Lemon Cheese Tart, $10) with white asparagus ribbons and raspberry rings, a dessert created exclusively for the seasonal menu.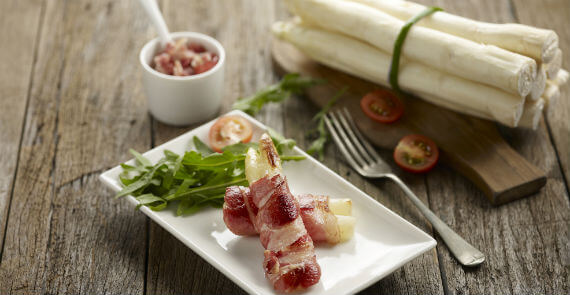 Brotzeit Spargel Im Speckmantel
Here are some example of how you will enjoy for the menu at all outlets: For Sharing,  Spargelplatte (White Asparagus Platter, $79) 400 grams of white asparagus in hollandaise sauce, served with black forest and gammon ham, smoked salmon, poached eggs and soft parsley potatoes. Add a basket of freshly baked bread (Bavarian pretzel, Pretzel Stick, organic Kaiser Roll, and organic Sunflower Seed Roll) for $12.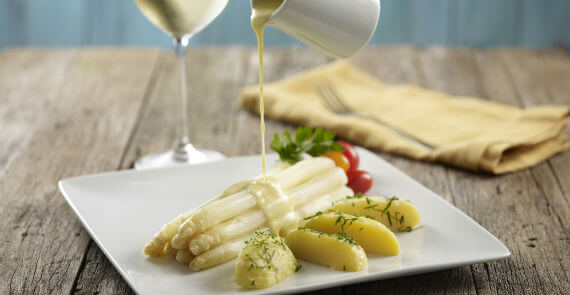 Brotzeit Der Spargel-Klassiker
Or try one of these Appetizers, Spargelsuppe (White Asparagus Cream Soup, $9), Cream of white asparagus topped with gammon ham and served with freshly baked brown bread. or Spargel Im Speckmantel (Bacon‐wrapped White Asparagus, $9) - White asparagus wrapped in crispy bacon with pine nuts, cherry tomatoes and a serving of wild rocket leaves.
For mains select from Der Spargel‐Klassiker (Classic White Asparagus, $28), 250 grams of white asparagus with brown butter or hollandaise sauce, served with soft parsley potatoes. Add black forest ham, gammon ham, or smoked salmon for $5, or a poached egg for $2, or the Spargel Mit Rinderfilet (White Asparagus with Grilled Beef Tenderloin, $39), White asparagus with herb garlic butter and hollandaise sauce accompany a prime cut of grilled beef tenderloin, served with soft parsley potatoes and as mentioned above for dessert Zitronen Käse Creme Mit Spargel (Deconstructed Lemon Cheese Tart, $10), White asparagus ribbons on a light, lemon cream cheese bed with raspberry rings.
Visit these five Singapore outlets:
Brotzeit, German Bier Bar & Restaurant - Vivo City
Brotzeit, German Bier Bar & Restaurant - KATONG
Brotzeit, German Bier Bar & Restaurant - WESTGATE
Brotzeit, German Bier Bar & Restaurant - [email protected]
Brotzeit, German Bier Bar & Restaurant - Raffles City
Comments
I have been a Brotzeit fan for many years, usually frequenting the restaurant for a fix of sausages and beer. This month though was different, as it is the season of white asparagus, the king of vegetables! Chef Wolfgang gave us a narrative on why the rave about this seasonal vegetable. In Germany it is revered like durian is in Singapore. It also signals the end of winter which is uplifting but only extends till mid-June or so when the season dies out. You might ponder on the difference between green and white asparagus. The former is exposed to sunlight where the latter isn't. Harvesting white asparagus is also manpower intensive as it requires expertise in knowing which stalks are ready for the picking in the earth. Because white asparagus is sheltered from the sun, it grows a thicker skin which has to be shaved off before cooking hence 30% of the vegetable is lost. Being an ardent fan of German wines I was pleased to be served a dry Pinot Blanc from the Rheinhessen Region. Stumped as to where this was on the German map, I reached out to Google with a silent "thank you" for the convenience we have today. The largest of 13 German wine regions for quality wines, it lies on the left bank of the Rhine between Worms and Bingen. The food started to arrive. My first course was the cream of white asparagus soup with gammon ham. It was surprisingly light and hit the spot when dunked with a slice of rye bread, which was served on the side. Admittedly I do fill up fast with soup so I left half of it to keep space for what was coming up. The bacon-wrapped white asparagus was more than a hint of naughty. Meshing healthy with unhealthy food, it was a fabulous way to enjoy bacon and feel good about it. Do you think I left even a tiny morsel behind? No chance. Moving on to mains the white asparagus with pan-seared barramundi was outstanding. Served with a hollandaise sauce on the side, herbed garlic butter and parsley potatoes, the combination of food was perfect. I have to say the Kuhlbarra barramundi which is locally farmed in Singapore made all the difference. The crispy skin retained a lot of flavor from this delicious fish! Chef Wolfgang decided to throw a curly at us and asked if we would try a small glass of lager to go with our next course, the grilled beef tenderloin. Served with the same condiments as the fish, the meat was grilled to perfection. Juicy and delicious, it truly did go well with a sip of beer, which left a good taste of bitter at the end. It's not the thing to do – have beer with a good cut of beef when there are fabulous wines on offer but Chef Wolfgang being a practical man who is willing to buck convention, was all up for it. He convinced most of us that it is something to consider on our next visit to Brotzeit. We were pretty topped up by this time and were amazed to see a sharing platter arrive with black forest ham, gammon ham, smoked salmon, poached eggs, white asparagus and parsley potatoes. The eggs were placed on top of the asparagus, then broken, so the soft center oozed out to cover the asparagus. A treat to say the least but you'd have to love eggs! Desserts are a funny thing. I somehow have place for it. As if there lies a hidden compartment in my tummy waiting to be filled. This deconstructed lemon cheese tart was the perfect end to a full meal. The lemon and white asparagus blended so well with the cheese and crunchy tart crumble. Interestingly this dessert was served in a glass where the layers of each ingredient could be seen. Very nice indeed. The Brotzeit team were simply warm and entertaining. I could see their motto of caring and sharing project itself in large sharing platters and their ability to enjoy what they do. Corporate lunches and dinners are also available for groups of four or more. The venue at Somerset 313 boasts a room upstairs which is not obvious when walking past on the ground level. We didn't smell a sausage this time as it was the time for white asparagus to be crowned. If you have not tried this special vegetable, head on down to Brotzeit and give it a go!
Seriously my favourite restaurant chain! Staff super friendly and professional.