The RANCH Steakhouse by ASTONS is hosting a social event to bring locals & expats from all over the world together for a grazing meal at Clarke Quay for just $19,50++ per head, including food (sharing platter) and a drink (wine or beer)!
Come to The RANCH Steakhouse by ASTONS every Wednesday and meat with a friend at the alfresco dining area!  This is an awesome deal but must be booked as a pair (2 pax).
As you are getting over the mid-week blues, celebrate with a platter of Wagyu Ribcap, Crispy Pork Belly and Free-range Pineapple-fed Chicken with delectable sides of Steak Fries and Salad and complete with two house wines or draught beer; all at only $39++.(a pair)
For this platter for 2, The RANCH Steakhouse by ASTONS will serve premium free-range pineapple-fed chicken that has been certified organic. These chickens are only fed with the best raw materials, with nutritious vitamin and an enriched diet of organic MD 2 Pineapple Enzymes to enhance their overall health and growth.
As pineapple is a natural meat tenderiser, you can expect a more tender and flavoursome chicken. The Wagyu Ribcap The RANCH Steakhouse by ASTONS serve is imported directly from Okayama prefecture in Japan and processed delicately by their Japan-trained butcher.
The RANCH Steakhouse by ASTONS have an exclusive partnership with the cattle farmer that exports their quality Wagyu to us so that it's fresh from the farm to your table.
By reservations only as limited space available.
So call The RANCH Steakhouse by ASTONS now at +65 6256 0334 or email [email protected], and we'll meat you at The RANCH Steakhouse by ASTONS on Wednesdays after 5:30pm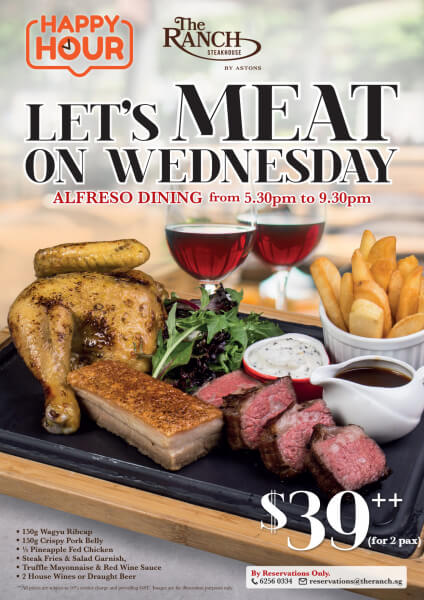 Comments
Been here a few times. Highly recommended. Go for it. See you Wednesday!
ExpatChoice.Asia has been a proud supporter of The Ranch Steakhouse by Astons since the team first opened their doors in Clarke Quay and we are delighted to be pairing up once again for this awesome Wednesday Night scoail starting Wed 10 July 2019 A social event that will mark your mid week with a very affordable and delicious $39++ meat platter for two people and 2 house wines or beer. Come and be social - come and relax and we can all "MEAT" up on Wednesday's for a laugh and a giggle.... create stories and made with great food and great wine. Mark on your calendar to 'meat' us at The RANCH! Happening every Wednesday starting from 10 July 2019 at the alfresco dining area, you can unleash the carnivore in you as you feast on a platter of Wagyu Ribcap, Crispy Pork Belly, Pineapple-fed free range chicken, sides of fries and salad garnish and wash everything down with a wine or beer. At only $39++ for 2 pax, wait no longer and make a reservation today as space is limited. Call The RANCH Steakhouse by ASTONS at +65 6256 0334 or email
[email protected]