Greenwood Fish Market is proud to announce that their World Oyster Festival is back for its 7th year running at the Bukit Timah and Quayside Isle outlets until 31st July 2019.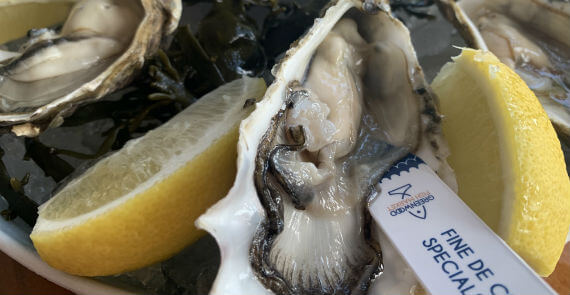 This year, Greenwood Fish Markets has stretched their fins further than they ever have before triumphing their personal record by bringing in 25 kinds of oysters from across the globe. Aside from the sea breeze freshness of raw oysters, Proprietor and head Chef Alan Lee has curated a line-up of cooked oyster dishes for customers to dive deeper into your gastronomic adventure.
There's something wonderfully satisfying about eating foods from the sea – cracking through claw, slurping shell and savouring the freshest catch of the day. A retailer and family run restaurant serving fresh western-style seafood cuisine, Greenwood Fish Market has become a roll off the tongue household name within the Greenwood Avenue community. Established in 2003, the restaurant stays true to its humble beginnings of offering value to the table and is the go to destination for your seafood fix.
In this years incarnation of the Worild Oyster Festival you wll get to enjoy not only a dozen, but grand 25 varieties of oyster from around the globe including:
1. Fanny Bay (Canada)
BC oysters with full, firm meats. Mildly briny with a cucumber finish. $3.95
2. Savage Blondes (Canada)
Full, sweet and briny. Crunchy meats with a stony finish. $6.45
3. Golden Mantle(Canada)
Plump ivory meats with a deep cup. Sweet and mineral with a melon finish. $3.95
4. Mary Point (Canada)
Massive flesh size with a soft texture. Low salt and musky flavours. $3.95
5. Little Harbour (USA)
Medium sized, good meat to shell ratio and liquor boasts a sweet, briny flavor. $6.95
6. Foley Blue Points. (USA)
Rich flavor from low water temperatures, larger and fuller meat compared to most flats. $6.95
7. Chebooktook (USA)
Cocktail sized with full meat, mild salinity and a sweet finish, from Bouctouche Bay. $7.95
8. Kumamoto (USA)
Mildly briny, sweet with a honeydew finish. Great for beginners and connoisseurs. $5.95
9. Barron Point (USA)
Massive flesh size with a soft texture. Sweet, mildly salty and musky. $6.95
10. Chefs Creek (USA)
Ivory meats with black mantles. Prominent creaminess. $3.95
11. Dutch Creuses (Holland)
Round shelled with a deep cup. Sweet and briny. $4.95
12. Irish Oceans (Ireland)
Buttery, bright, briny. A beachy essence with zinc minerality in the finish. $4.45
13. Ostra Regal (Ireland)
From Bannow Bay. Iodine and mineral tastes leave a sweet algal flavour. $7.45
14. Sentinelles Specials (Ireland)
Semi-salty, sweet. 30 months is needed for the oyster to reach adult size. $5.95
15. Fine de Claire Specials (France)
Delicate white flesh with a golden tint and a light green mantle. $5.95
16. Fine de Claire (France)
Delicate with a briny taste reminiscent of soy sauce and a hazelnut finish. $4.95
17. Speciales Utah Beach (France)
Transits from brine to acidity with a subtle nutty flavour. Sweet and crunchy. $6.95
18. Brittany Specials (France)
Smooth and meaty with sea aromas. A sweet aftertaste follows the tart tang of steel. $4.95
19. Tsarskaya (France)
A taste of iodine akin to almonds and hazelnut $7.95
20. Normandy (France)
Highly iodised, pulpy, and rather fleshy. $4.95
21. St Vaast Specials (France)
Iodised, fleshy, famous for its nutty taste. $4.95
22. Gillardeau (France)
Meaty, crunchy. Aromas of hazelnut with spicy, sweet and salty flavours. $8.95
23. Belon OOO (France)
Uplifting and aromatic with a hazelnut finish. Intense and unforgettable. $10.95
24. Pacific Rock (New Zealand)
Delicate with a light creamy texture. Clean, briny and sweet. $4.45
25. Coffin Bay (Australia)
Meaty with a petite, rounded shell. Clean, crisp and briny with a sweet finish. $4.95
The teams at Greenwood Fish Market are dedicated to bringing the freshest products to you at wholesale prices. They have always believed that the simple joys of seafood should be shared with everyone.
Swim on by for a visit.
Comments
I rarely give 8/8 however these oysters would really be 10/8! Just super fresh and world wide variety! Greenwood Fish Markets has stretched their fins further than they ever have before triumphing their personal record by bringing in 25 kinds of oysters from across the globe.
Commanding a view of stunning yachts that you probably dream of owning, the family-owned Greenwood Fish Market has been a local staple for the past 16 years. Continuing to dish out authentic seafood dishes at its new-ish Sentosa Cove location, fresh additions include the Crispy Truffle Mushroom ($14.95++) and Scallop Carpaccio ($25.95++). If all else fails, their trademark Cold Seafood Platter ($99++) has a little bit of everything. The restaurant's Daily Specials promotions sees 35% off, or $1.95++ freshly shucked house oysters on Oyster Tuesdays, and both steamed and grilled Lobster Mondays dishes that start from $44.95++. Throughout July, their World Oyster Festival will be returning for its seventh edition, featuring 25 various types, from the mildly briny Fanny Bay ($3.95++) to the buttery Irish Oceans ($4.45++).