Inspired by all the serious patty action that went down in the foodie scene over the past year – from the opening of Singapore's first Shake Shack to Wolfgang Puck's posh steakhouse burger – Chef-Owner of Cure and Butcher Boy Andrew Walsh is excited to present his newest venture, Bao Boy. 
"As a spin-off of the burger craze, I created steamed bao sandwiches that were added to the menu at Butcher Boy and the feedback was amazing – this gave me the idea of opening a baocentric restaurant-bar and Bao Boy was born," shares Chef Andrew.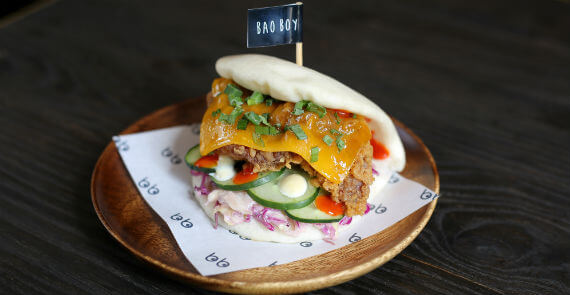 Fried Chicken & Cheese Bao
Butcher Boy crowd-favourite, the Fried Chicken & Cheese Bao ($14++), makes an #incrediBAO appearance on the menu. The pillowy steamed bun is stuffed with buttermilk-soaked chicken thigh, shredded cabbage, and a swipe of yuzu kosho that delivers a lovely spicy citrus note to the mix.
Another Asian-influenced bun, the Lamb Bao ($16++), features a breaded lamb terrine prepared to a golden-brown finish, and served with Korean hot sauce for a mild spicy kick.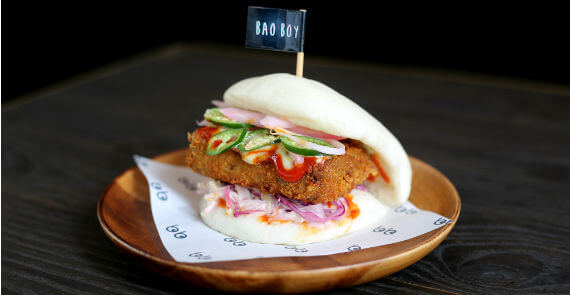 Lamb Bao
No matter which bao you go for, Chef Andrew has made sure that they can all be picked up with one hand – so you have an excuse to hold an ice-cold beer from Bao Boy's handpicked list of premium brews, including Suntory from Kyoto, in the other. Now that's multitasking!
 
Furnished with textured concrete walls, walnut and brass tones emanating cosy, laidback vibes and a brightly lit neon #incrediBAO sign, Bao Boy sits right at home along the gastronomic hotspot that is Hong Kong Street. 
 
Bao Boy's mural titled "Great Leap", featuring a collage of visual elements derived from the other surrounding businesses around Hong Kong Street has become a neighbourhood icon. Produced by a local artist, the mural employs the figure of a female Chinese revolutionary as its focal point and is a representation of courage and change.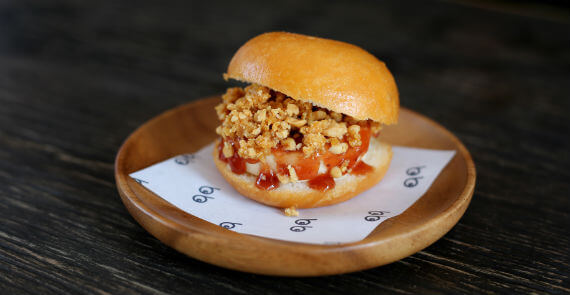 Fried Peanut Butter & Jelly Bao
 
With American rock 'n' roll and eighties hits humming on the speakers, expect a low-fuss party ambience at this edgy oasis for baos and beers. Dress code: Swag. 
The signature bao items riff on classics such as Pulled Pork Banh Mi Bao ($14++), an elegant twist on the Vietnamese staple, with exceptionally tender Iberico pork jowl, topped with liver parfait and a dollop of sriracha.
Then there is the vegetarian Chickpea Falafel Bao ($12++). This is an expert take on the traditional dish – a crunchy patty with a soft, creamy interior topped with a nutty house-fermented harissa sauce and a sesame tahini that sends it over the edge.  
Following the reinvented-classics vibe of the bao section, the menu has a selection of snacks that includes the Chilli Crab Mac n Cheese ($16++), Bao Boy's take on the classic favourite now melded with one of Singapore's most iconic dishes.
The Asian-meets-Mex Salmon Tartare Nachos ($12++) and Beef Tataki ($14++) are also noteworthy highlights not to be missed.  
While you are downing your preferred Boa, check out the drinks list for Asian-inspired cocktails such as the Ryokucha ($16++), an enticing concoction that marries roasted green tea-infused gin with campari and a splash of vermouth; or the Pandan Tini ($15++), an aromatic vodka infused pandan with palm sugar vermouth. 
If you prefer wines, Bao Boy is proud to offer a list of natural, biodynamic and organic labels sourced from France, Germany, Australia and more that are delicious, earth-friendly and easy on your conscience.
A. 31 Hongkong Street 059670  T. +65 6226 1395 
Comments
A funky little bar that sprawls out to Hongkong Street is where you will find Bao Boy. So buzzy with tunes that make you wanna bop to the music, the playlist is that of Chef-Owner Andrew Walsh. I was lucky enough to meet Chef Andrew at Bao Boy before he scooted off to his other two restaurants Cure and Butcher Boy. Having worked in Michelin-star restaurants, with award-winning chefs and in so many diverse parts of the world, Chef Andrew has pulled his experience together to launch three amazing restaurants in Singapore. The concept of Bao Boy intrigued me. Firstly I love Bao's so that made it real easy to enjoy the trappings on the menu. For those of you who have not had a Bao they are steamed buns slit open to allow for a filling of some sort. Secondly, at Bao Boy the fillings were gourmet. After having one I can assure you I was salivating for more. Very apt to have a drink in one hand and a bao in the other this is the perfect place to have a gathering of friends. The starter sharing plates menu was heavenly too. Nachos made with fried wanton skins rather than corn chips were a nice twist. Topped with salmon tartare and wasabi avocado the crunch and texture was simply magnificent to say the least! Being a dumpling girl I devoured the chicken and prawn dumpling that was accompanied by a thick Teriyaki sauce sprinkled with sesame seeds. A wonderful starter and even though they are meant to be sharing plates, I was not prepared to share this one. When I saw beef rendang fries on the menu I thought this was such a clever twist to fries! And talking about twists, the chilli crab mac n cheese which had a bit of bite in it, was a really great bar food to pair with a cool cocktail. I tried the mango tango punch which had tequila, mango and citrus tones and coco de crème which had gin, coconut and lemon. Perfect accompaniments to the sharing plates that are very typically bar style food. Moving on to the bombastic buns at Bao Boy, I tried the fried chicken and cheese bao. The crunch of the chicken crust and the soft bao coupled with the tangy cabbage and a swipe of yuzu kosho (a pasty Japanese condiment made from fresh chillies then fermented with salt, zest and juice from yuzu). With the ambience of neon lights and "#INCREDIBAO" screaming at me on the walls I felt the beat of Bao Boy. It is obvious Chef Andrew put a lot of thinking into his line-up of Bao's. The pulled pork banh mi bao with sririacha bao needless to say was exquisite. This twist on a Vietnamese favourite would appeal to many and to cater to British folk who insist on fare close to their heart Chef Andrew made sure to include them. A Halibut fish n chip bao arrived looking very wholesome. One chomp into this and I could totally get that this would be popular amongst traditional eaters. And so with something for everyone, the lamb bao with Korean hot sauce turned out to be a stunner. For those with higher tolerance for chilli this was one to watch out for. I loved it I said, as I reached for my cocktail - a great combination that can sneak in and have me overeat! Launched in July 2019 Bao Boy focuses on Asian sandwiches created from Asian flavours. Hip and low key it is a great place to hang out for a drink and snack after work or organise an event at. In doing a dessert for Americans Chef Andrew created a fried peanut butter and jelly bao which I initially thought "no way that would be just too heavy" but to my surprise it wasn't. In fact it was a great end to the savoury bao's that left me on a high as I walked out of Bao Boy. What a concept! What a night!